John Watson of Watson Home, Hire & Hardware has been re-elected as President of the Letterkenny Chamber.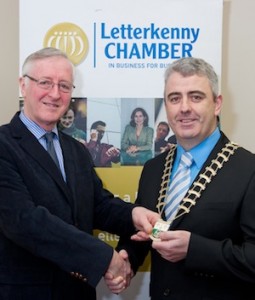 He was elected for a second term of office at the Letterkenny Chamber AGM held last night.
At the meeting John expressed how much he enjoyed and was proud to have served as Chamber President in 2012.
"This has once again been a challenging year for the business community but we hope that the work we have done this year in terms of positioning Letterkenny as a retail destination and commercial centre has started to pay off.
"In addition to the town itself the Chamber has endeavoured to represent our members' needs and play our part in promoting their businesses."
In reviewing the Annual Report Mr. Watson highlighted 2012 Chamber activities that have included: lobbying on rates, business costs, roads, and infrastructure; most successful year yet for Shop LK, reaching sales of €1m worth of vouchers; work towards developing a stronger Chamber and Chamber Council.
The Chamber also held a successful series of events including member lead workshops; topical events – especially Sir Gerry Robinson's questions and answers; its annual Dinner and Letterkenny Business Awards which was the best in recent years as well as its continuing contribution to the economic and social fabric of Letterkenny.
This year Letterkenny Chamber ramped up it's social media activity. The Chamber now regularly communicates on Facebook and twitter and electronic newsletters are growing in popularity.
Through all the Chamber's communication channels it provides members with as much information as possible and trust that this two way interaction serves our members well.
John continued "The Chamber continues to work with other partners and the key stakeholders in the town and region including Letterkenny Town council, Donegal County Council, FAS, LYIT, Enterprise Ireland, IDA and Garda Síochána.
"There are many changes imminent in the local authority and enterprise support sectors and we have already started to work on our relationships around how we work with the new structures, which will have an impact on ratepayers. We will see these changes more tangibly in 2013 and the Chamber Council and staff will rise to the challenge. "
John also took the opportunity to thank people who assisted him in his years as President of the Chamber. This includes the Chamber staff, the 16 individuals who make up the Chamber Council who all give so generously of their time for the Chamber.
He also thanked the members of the Chamber, for their ongoing support of Letterkenny Chamber.
After the AGM John put himself forward to take on a second terms and was duly elected.
On accepting the second terms he said "As we go forward in 2013, the Chamber Council will be implementing a relationship management strategy to engage with as many members as possible. We have set target to grow membership and income and will be taking on a cross border export project starting in January.
"The structures and strategies are aimed at improving our financial standing while still aiming to build and grow and become a stronger voice of business in Letterkenny. We are hopeful that a budget may be allocated again from Letterkenny Town Council for Shop LK enabling us to build on what has been an extremely busy and successful year.
"I am delighted to take on a second year to see through some of the strategies and initiatives that I have spearheaded this year. Letterkenny Chamber has grown in it's standing over recent years and we are looking at 2013 very ambitiously."
Apart from a new President the Chamber has a new Council.
The Chamber Council is made up of 16 members, from a wide variety of business sectors, who meet on a monthly basis and who are responsible for steering the policies, activities and initiatives of the Chamber. Seven new Chamber Council members were elected for the 2011/2012 period.
The Chamber Council 2012/2013 is –  President – John Watson (Watson Home Hire Hardware); Seamus Browne (Browne Printers); Bernard Dillon (Honorary Member); Gerard Grant (Pramerica);Brian Mc McCormick (Brian McCormick Sports & Leisure)Gerard McCormick (Magees Pharmacy; Jim McLaughlin (AIB); David McGeough (McGeough Financial Consultants); Philip Ward (Voodoo & Ink); Clare McNickle (Clare Clothing); Kerry O'Donnell ; John Clancy, Highland Radio; Garry Clarke, Garry Clarke Solicitors; Gary Cooney, Gary's Petworld; Mark Bundschu, Easons and John Andy Bonnar, LYIT.
Tags: