The sister of tragic school girl Erin Gallagher has taken her own life last night.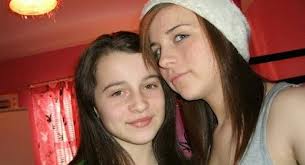 Shannon Gallagher, 15, is believed to have died by suicide also.
Sources close to the family confirmed the tragic news to Donegal Daily this morning.
Shannon was a pupil at Finn Valley College.
She was to turn 16 on Christmas Day.
She was found around 10.30pm last night in Castlefin.
Friends and family of the teenager have been left numb by the tragedy.
Trained psychologists have been drafted into the Finn Valley College to cope from the fall-out from Shannon's death.
CEO of the VEC Shaun Purcell has said pupils and teachers are devastated by Shannon's death.
One friend said: "It's just too hard to even speak about. First Erin and now Shannon. What is her poor mother and little brother going to do?"
Shannon's sister Erin, 13, was found dead at the family home in Ballybofey on October 28th.
There was a huge outpouring of grief at the time amidst claims that she had been the victim of bullying.
The girls' granda James Gallagher said the family were devastated by the death.
"Shannon was wrapping Christmas presents last night and was missing her wee sister," he said.
Tags: