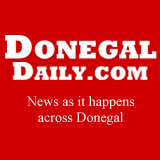 VIEWPOINT: Readers can submit articles for publication by emailing info@donegaldaily.com, or submit comments below.
Dear Donegal Daily,
I've thought long and hard about sending this in, but I feel I must speak out on behalf of workers in this county and across this country who are being fleeced simply because Fine Gael has failed to stand up to the Labour Party in government.
I laughed at last month's budget and how the newspapers reported how Fine Gael had apparently got what they wanted out of it.
If they did, then they have let down people like me who voted for change and voted for the first time for Fine Gael.
I work full-time. My wife works part-time. We know we are lucky to have work when so many do not.
However despite this, we appear – on the face of it at least – to be much worse off than some families I know.
I go out one night per week. I have just a couple of pints. But in my local bar I see neighbours on the dole who I know are out three or four nights every week, drinking my taxes. And they have a lot more than two pints each time.
At Christmas, we struggled to get gifts for our children. We just couldn't buy many of things they put on their list for Santa.
Yet the children of some of my neighbours were running around with all the latest gadgets and toys. Paid for by my taxes.
Apparently I am one of those in the squeezed middle, struggling to pay every bill and keep a roof over our heads.
We did manage just before Christmas to get a Saorview box for the television. My on-the-dole neighbours have a full Sky package. They were able to watch the football over Christmas, paid for with my taxes.
Something is just not right. Something is not adding up.
We will have more taxes to pay in 2013. The property tax, water charges probably and septic tank fees.
There is no end to the squeeze. We are, in fact, being slowly squashed.
I know I cannot blame those who benefit from our generous benefits system. It's not their fault – in most cases at least – that they are on the dole.
If I was getting that sort of money every week, I'd have Sky TV too – and video games for the kids.
It seems to me – and I'm open to other opinions – that if you try to work in this country, you get punished over and over again with new taxes.
But if you do not work, and I know most people can't work, you can do a great deal better.
Hard-working families cannot take anymore.
Regards
Sean
Dad of three
County Donegal
Tags: