Retailers in Letterkenny have reported a better than expected Christmas with sales much improved from last year.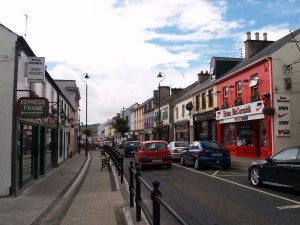 Letterkenny Chamber with the support of Letterkenny Town Council ran many shop local campaigns in 2012 under the Shop LK initiative and it seems to have caught the imagination of everyone.
Higher numbers of people from across the County are seeing the benefits of staying local and have voted with their feet.
The Chamber says that 2013 will just build on the reputation gained last year.
Toni Forrester CEO of Letterkenny Chamber says "This year we are asking people to shop locally throughout 2013. We had an excellent Christmas and in general an improved 2012. We want to build on the optimism to make 2013 an even better year.
"We have a wealth of business in Letterkenny from independent operators to the well known multiples and we will use our campaigns this year to remind locals and visitors of that."
Letterkenny Chamber's ShopLK campaigns were organised to promote retail in Letterkenny but also to promote the sale of Shop LK vouchers.
Last year's ShopLK campaigns not only reminded local people what Letterkenny has to offer but also showcased this to nationwide audiences from national television and media to Northern Irish news papers and radio.
Letterkenny Chamber campaigns have definitely affected the sale of Shop LK vouchers. They have exceeded expectations this year. For the Christmas period alone the sales of the vouchers has reached a new high of €220,000, the biggest volume of sales in any Christmas period since the initiative started.
Shop LK vouchers can be spent on over 120 outlets in Letterkenny so this means that this money is contributed back into Letterkenny not just in money but also in terms of jobs. There is also the multiplier effect that means for each voucher spent at least twice the face value is spent at the same time.
Shop LK vouchers can be bought in the Letterkenny Chamber and now online at www.shoplk.ie so with even more accessible ways to buy the vouchers and with the range of businesses involved growing ever year, sales are expected to get better and better.
Throughout the year the sterling-euro exchange rate also contributed to people shopping locally. Letterkenny retailers used this to their advantage and the majority offered 25% on the sterling attracting a lot of northern visitors to Letterkenny.
John Watson Chamber President commented "It's time to make hay while the sun shines. Retailers are right to take advantage of the exchange rate, its great to see local people staying local and visitors from the north spending money here too. We want people to re-discover what Letterkenny has to offer and we are here to make that happen and help businesses to reap the rewards."
The weather also had an effect on retailers business. We had a warm summer and a relatively mild winter with no snow this year and this allowed people to get out and about. The lead into Christmas also had an effect on the Christmas sales.
There were four shopping weekends in December so there was plenty of time for people to shop. Of course none of this would make a difference if it wasn't for Letterkenny's keen prices, wide selection of shops and that personal service offered by so many businesses.
Letterkenny Chamber thanked all those who have supported Letterkenny and Letterkenny businesses over the least year.
Tags: