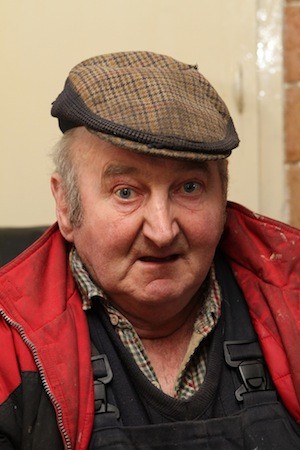 A pensioner last night revealed how he and his brother fought off a gang of burglars using brush handles.
Eric and Jim Steele saw off the gang who tried to break into their home in Manorcunningham late on Monday night.
The brothers, aged 68 and 75, became the latest victims of a spate of rural crime that is sweeping the North West.
The men, who are both farmers, were preparing to go to bed at their home on Main Street in Manor when the gang of four struck.
Speaking from his home last night, Eric (pictured right) told Donegal Daily the first they knew their house was under attack was when they spotted shadows.
"We were sitting in the living room and I saw feet in the shadows underneath the kitchen door.
"Jim went to the door between the living room and the kitchen and he grabbed a brush shaft.
"There were four of them. They had masks on and big coats and Jim gave one of them one hell of a bleaching. They turned and ran out the door. Sure Jim could still go a few rounds with Sonny Liston.
"We shouted after them but they disappeared. They didn't get anything," said Eric.
The Steeles, who own considerable tracts of rich farming land across East Donegal, are well-known in farming circles.
The brothers still work the land each day and are respected as hard-working farmers across the community.
Eric said he suspected the gang didn't quite know what they were letting themselves in for when they entered their home.
"I think they knew what they were doing but they didn't think we would try to stop them.
"They picked on the wrong boys. We might be getting on years but we can still look after ourselves. They thought we would be easy pickings.
"There was nothing here to get with anyway. I reckon the boys came in from Derry."
The two farmers are the latest victims of an epidemic of burglary across Donegal and rural Ireland
Greta Lilly, 96, was punched in the stomach when burglars broke into her home and stole her handbag in Buncrana, Co Donegal ten days ago.
Another Donegal pensioner, 86 year old Margaret Kelly was robbed at her home in Convoy last week when burglars robbed eight homes in the area in one afternoon.
And 78 year old Phyllis McGee was robbed for the second time in just two months last weekend when three men forced their way into her home in Pettigo, Donegal last weekend before escaping with cash.
Two more Inishowen pensioners were attacked last night. You can see what happened to them on this story here:
https://www.donegaldaily.com/2013/01/16/when-is-it-going-to-end-two-more-pensioners-beaten-in-donegal-raids/
And Phyllis McGee speaks out on RTE:
https://www.donegaldaily.com/2013/01/15/robbed-donegal-pensioner-tells-prime-time-i-would-love-to-see-thieves-shot/
Tags: