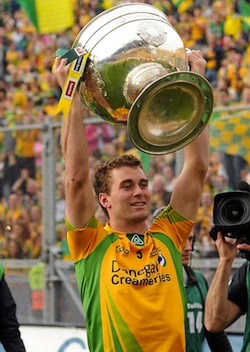 DONEGAL star Eamon McGee has spoken of his desire to win more All-Irelands – after being taunted by one of Tyrone's greatest players.
The Gaoth Dobhair man said Brian McGuigan boasted about having three medals.
"I remember last year against Tyrone and myself and Brian McGuigan were having a tit-for-tat. He said to me, 'No matter McGee, I will still have three All-Ireland medals," said Eamon today.
"And he's right. When you're playing at the top level the currency is medals, All-Ireland medals, provincial medals that's how the great teams will be remembered."
In an interview with the Irish Sun, McGee spoke of his desire to win back-to-back All Irelands with Donegal.
"It's incredibly hard. It's very, very tough to do," he said.
"But it's all about goal-setting. Now we have the All-Ireland, we need to change the goal to retaining it and actually working hard towards it.
"This requires a different frame of mind. You have to approach it like what we did last year will not be good enough to retain it.
"You have to find another level. And there's no better man than Jim to help you. Jim talked about a few of the squad only playing to 60 or 70 per cent.
"It's up to them to push on and not be looking to Karl Lacey or Michael Murphy or whoever else to carry you. You have to get every man up at the All-Star level."
The Gaoth Dobhair player also laughed at suggestions that Jim McGuinness's part-time role with Celtic was affecting Donegal.
"One of the lads was asking me if I have seen less of him. Unfortunately not! Since the new year started he has been there every time training has been on.
"If he's not, we have Rory Gallagher and Maxi Curran. They're more than willing to step it up. Since the team holiday to Dubai everyone has knuckled down.
"Last year after each game Jim wasn't happy. I'm sure once we start, we'll soon look at the All-Ireland final against Mayo and say, 'What went wrong?' and 'Why did we not drive on when we could?'"
Tags: