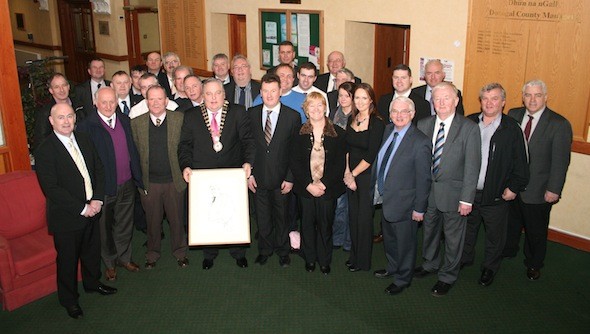 A portrait commemorating one of the most important United States politicians, Thomas P (Tip) O'Neill, has been unveiled at County House in Lifford this afternoon.
Tip O'Neill served as Speaker of the U.S. House of Representatives from 1977 to 1987. As Speaker of the House of Representatives and leader of the U.S. Democratic Party, Tip O'Neill was a force for promoting the welfare of the weakest in U.S. society and for seeking a fair deal for all citizens.
Tip O'Neill was proud of his Irish and Donegal roots. His grandmother, Eunice Fullerton hailed from Drumfries and his grandfather James Tolan from Clonmany.
The contribution made by Tip O'Neill to Ireland's Peace Process and to the economic and social well-being of the North and the border region (including Donegal) was enormous. Tip O'Neill brought his skills and influence to bear to bring about change for the better in this county and this region.
Donegal is justifiably proud of this member of its Diaspora.
This has been recognised by the initiation of the Tip O'Neill Irish Diaspora Award by Donegal County Council in partnership with Buncrana Town Council.
The first recipient was Mr. Niall O'Dowd, Editor of the Irish Voice newspaper. The award was presented to him by Mrs Pat Hume in September of 2012.
2012 was the centenary of the birth of Tip O'Neill and a monument was unveiled in his honour, as part of the centenary commemorations, in Buncrana. The first annual Tip O'Neill Diaspora Lecture was also delivered by Prof. Paul Arthur as part of the programme of events to mark the centenary.
During the centenary commemoration, the O'Neill family presented Donegal County Council with a portrait of Tip O'Neill in recognition of his strong links to the county.
This portrait is to be displayed in the County House in recognition of the achievements of this prominent member of the Donegal Diaspora and in appreciation of his contribution to peace and to the economic and social regeneration of this county and region. This will also be a symbol of this county's link with our broad Donegal Diaspora in all parts of the world.
This portrait was unveiled in the presence of the full council by Donegal Mayor Clr. Frank McBrearty at today's Council meeting in County House, Lifford.
Tags: