A groom who attacked a man at his wedding after he spilled his drink has been given a suspended jail sentence.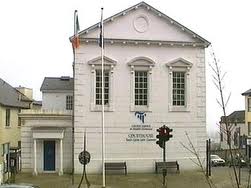 Sean McHugh, 35, assaulted the man ay his wedding reception in Jackson's Hotel, Ballybofey on July 31st, 2011
McHugh of 29 Listymore Park, Castlederg , was one of three men who assaulted Patrick Harrold.
Ruadhri Carlin (20) of 1 Priest Sessiagh Road, Castlederg also pleaded guilty to the assault at Letterkenny Circuit Court.
Mr Harrold was found by gardaí lying in the foyer of the hotel with a large gash on his head after a report of a group of men fighting.
The court heard Mr Harrold had been out for a family occasion and went to the resident's bar at around 4.30am.
McHugh, dressed in his wedding suit, approached him and accused him of spilling his drink and demanded he buy him another one. The court heard he was very aggressive and reached out to strike Mr. Harrold.
Carlin then approached him and started punching him in the face while a third man approached, also wearing wedding attire.
Mr. Harrold felt his life was in danger and he ran into the resident's lounge. The three men chased him and started beating him from all directions.
He was kicked on the head as he lay on the ground .He woke up in an ambulance on the way to hospital.
When gardaí came looking for the men responsible for the attack, McHugh had left the hotel after having a falling out his new bride, and Carlin had gone to his room.
Both men admitted their part in the assault.
Pictures of Mr Harrold's injuries were shown to Judge John O Hagan.
He suffered injuries to his head which required four staples to his temple and needed a CT scan on his kidneys.
He also suffered psychological problems following the attack.
Carlin told the curt he was extremely sorry for what happened. He said he was stupid and was not thinking right when he took part in the assault. McHugh told the court he did not mean what had happened to Mr. Harrold.
Judge O'Hagan said the two men had left Mr. Harrold lying like a piece of meat.
He said the incident marred a happy day for the bride and her family. "You could not control yourself over a spilled drink. It does not make sense," he told McHugh.
He sentenced both of them to three years in prison which was suspended for three years and warned them that the sentences will follow them wherever they go
Tags: