This Friday the 15th of February at 9pm Termon GAA will officially launch their 50th Anniversary celebrations at the Lagoon, Termon.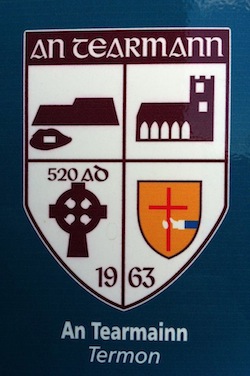 Details of events taking place to mark the 50th celebrations and dates will be announced on the night.
The club will also be launching a range of exclusive 50th celebration merchandise on the night including tracksuits, replica one off jerseys, polo shirts and other items which will be branded with the clubs 50th celebrations logo.
All goods will be available to order on the night and all goods will be exclusively available for this year only.
The club will also be launching its new website on the night.
The club has announced that it will be making a number of past finals available to buy on DVD this year including the Intermediate championship wins of 1991, 2000 and 2012 along with the Ladies Championship final of 2012 and some underage county and divisional finals from the 80s and 90s.
Finally details of a club publication that will be produced this year will be announced.
"We are currently researching for the book and hope to begin bringing it all together in the coming weeks. We are compiling lists of all past chairmen (and women), managers, player of the year winners and club person of the year winners and will have some of the lists on display on Friday night. Unfortunately the club lost a lot of its early years information in a fire in the Lagoon in the 1970s so we will be looking to the earlier members for any information they have regarding the clubs history".
"Our aims for the year are to involve all elements of the club from past members at home and abroad, and to celebrate the contribution of the club to the people of Termon, Gartan and Kilmacrennan over half a century," said 50th celebrations Chairman Hugh Harkin.
"The idea behind the merchandise is to promote the club and make all elements of the clubs history more accessible to people than it has been in the past. Finally we will be paying tribute to the founding members of the club over the course of the year".
Tags: