The Mayor of Letterkenny has asked the Gardai to consider undercover operations to catch vandals who are making life hell for some of the town's oldest residents.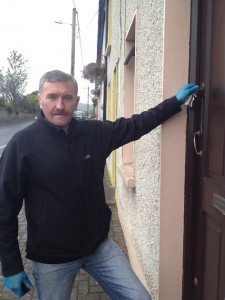 Colr Dessie Larkin revealed that there have been yet more glue attacks on residents at Ballymacool Terrace in recent days in which door locks were destroyed.
The Mayor also revealed that there have been several other anti-social incidents including several windows being smashed.
Colr Larkin said enough is enough and people have a right to be protected.
He said Gardai must now act and consider what steps need to be taken to find a pattern to the spate of vandalism.
"The bottom line is that these people have to be protected and these kind of attacks can no longer be allowed to happen.
"There is a pattern to them and I would ask the Gardai to consider some kind of covert operation to catch these people in the act.
"We need to catch these people in the act because some of these people are living in fear and are afraid to leave their homes.
"Families have been living here for three generations and more and now they are wondering if they can live there any longer," he said.
Tags: