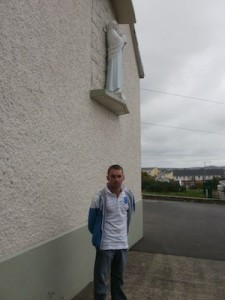 A DONEGAL child sex abuse victim has launched a campaign to have paedophiles electronically tagged on their release from prison, accusing Taoiseach Enda Kenny of reneging on a promise he made when in opposition.
Derek Mulligan was a victim of notorious abuser Michael Ferry who is serving a 14-year sentence for attacks on him and three others.
Ferry abused his victims at an Irish language college based at Ardscoil Mhuire in Gaoth Dobhair. His abuse continued after a previous conviction for sex attacks on another teenager.
Mr Mulligan wants paedophiles tagged and put through polygraphs – lie detector tests to see what danger they pose to children.
He says he has written to local TD Pearse Doherty in the hope he will raise the issue in the Dail.
Here's what Derek has written for Donegal Daily:
"110 sex offenders that get out of prison every year and a lie detector test and tagging is need as a matter of urgency.
The lie detector test will prevent the DPP from not allowing a case to go to the courts and giving no explanation while a victim spends almost 2 years waiting for the DPP outcome. Throughout that time that victim is living on ledge then they are told they will never have their day in court or rightfully get there justice they so truly deserve.
How many other people go through this on a daily basis you have to ask yourself ? After they do the hardest thing they will ever have to do in there lives and that is to come forward and tell their nightmare to the Garda, then often not to be believed by the DPP and to make matters worse given no explanation as to why? What must they feel when their abuser walks free? My heart goes out to the many who have lost their lives because of the lack of care shown by our justice system! We pick the suffering up – we don't kick them when there already down asking for help.
With a lie detector test in place many questions can be asked.
They can't lie when asked the question. Do you no any other child molesters in your area? Did you abuse this child? Have you abused any more children that you have not yet admitted to? It can also be used in conjunction with new cases where the victim is not believed and the abuser pleads his innocence. Speeding up the procedure of the courts. Also not giving the abuser four years off a sentence for pleading guilty.
We need to fight this justice system to protect our country's children from these beasts something as simple as this can save a family from losing their child through suicide.
Are we really up to date with the technology that can save lives?  Haven't enough lives been destroyed in this country because of abuse? Are we going continue to be trampled on by a system that's failing us or are we as parents, guardians going to stand up for what we believe in and do the right thing for those who are crying out for help?
On electronic tagging it will unsure the safety of our children from these beasts that are free to roam wherever they chose with no boundaries put in place. The Gardai don't even know how many of these beasts are living in their own areas. Children aren't safe and we are here to protect their innocence yet every day that goes by another child cry's out for help ! It's not just our government letting these children down it us most of all for sitting back and doing nothing!!
Still Enda Kenny refuses to realise the the seriousness of the situation. Almost 3 years on after Enda himself said it was a matter of urgency to get electronic tagging brought in as part of his plan for government nothing has been done.
It will cost 21 euro per head for the tagging of every sex offender per week, not much considering the life of a child.
The Garda have sex offenders registers – but they cannot monitor their movements 24/7. Tagging can.
Something must be done. Something must be done to save more children from abuse. It is a disgrace that this issue is not being taken seriously by our State."
********
Donegaldaily.com – Donegal's No1 News & Sports Website
Follow the leader on:
https://twitter.com/DonegalDaily
Tags: