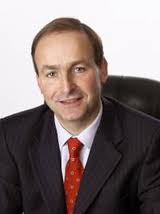 EXCLUSIVE: FIANNA Fail has confirmed to Donegal Daily that their party leader is to meet representatives of the Travellers community to discuss the racist slur by Councillor Sean McEniff.
The Donegal County Councillor made several comments about Travellers when it emerged the council had spent €230,000 on a five-bedroom home for a family in Parkill outside Ballyshannon.
The controversy erupted again on Monday when arsonists burned the house down.
Fianna Fail said today Cllr McEniff's comments were "totally against" party policy. The party insisted the comments are personal.
But a party spokeswoman confirmed to Donegal Daily that Mr Martin will meet the Irish Travellers Movement next week.
It comes just hours after Donegal Daily's revelations on the affair were discussed on TV3's Vincent Browne programme.
Donegal TD Padraig Mac Lochlainn told last night's programme that McEniff's comments were "racist and shameful."
He called once again on Fianna Fail to take action against the Bundoran business tycoon.
Tags: