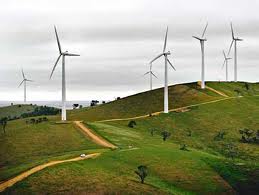 THE Environment Department is conducting initial investigations in Co Donegal to see if people living close to wind farms in the county are suffering from 'Wind Turbine Syndrome', Donegal Daily can reveal.
Experts at the department are canvassing the public to let them know what it is like to experience the continual noise from turbines and whether current guidelines, which were written when turbines were much smaller, should be revised.
Margaret Ward, from the Gweebarra Conservation Group, wants anyone with symptoms to take part in the investigation.
"Wind Turbine Syndrome is a set of symptoms experienced by people living up to 10km from industrial wind turbines such as those in Donegal," she told Donegal Daily.
"Symptoms include irratability, disturbed sleep, depression, headaches, blurred vision. The noise from turbines can be heard far from the turbines, especially in complicated landscapes with valleys, hills and rivers and lakes as the sound can bounce around.
"We have had complaints from people all along the Gweebarra river who can hear the modulating hum of the ten turbines at the Loughderryduff wind farm at Maas, especially at night.
"The noise is actually noisier inside peoples' homes than it is outside because of the way the noise and infrasound penetrates the walls of houses. Infrasound causes cardio vascular problems as it affects the natural rhythms of the body."
The group claims wind companies are not carrying out proper noise assessments because it suits them not to and the Council is not insisting that they do.
"The current guidelines are ten years old when turbines were much smaller. Donegal County Council just granted planning permission for 16 turbines, each 152m high, in a busy suburb of Letterkenny at Newmills. This development by GDNG Renewables Ltd has been appealed to An Bord Pleanala," said Margaret.
"Donegal County Council reduced the legal limit of how far a turbine can be built near a home from 500 metres to zero metres," she added.
Anyone who wants to take part in the Department survey must email miriam.tiernan@environ.ie with your views on wind turbine noise before tomorrow Friday, Feb. 15th, 2013.
See http://www.wind-watch.org for more info on Wind Turbine Syndrome.
********
Sure I saw that first on…..Donegaldaily.com – Donegal's No1 News & Sports Website – more than 30,000 Visitors Every Day, more than 100,000 Page Views Every Day.
Follow the leader on:
https://twitter.com/DonegalDaily
Tags: