INVESTIGATION: Serious concerns have been expressed over safety at An Grianan Theatre in Letterkenny.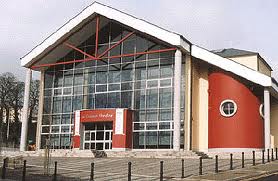 A leak in the roof, which was first noticed a year ago, has spread water to other parts of the building.
One of the dressing rooms at the theatre cannot be used and only last week, administrative staff had to move to a different location.
There are now fears that electrical equipment is now posing a danger to performers and members of the public.
Now a former committee member has expressed fears that the building could be closed by the Health and Safety Authority if the damage is not addressed.
Paddy O'Connor, who helped raised more than €300,000 for the theatre which opened in 1999, told Donegal Daily the matter is one of the utmost urgency.
"The concern now is that the building is fast becoming unfit for purpose and that unless addressed as a matter of urgency, the rain damage may spread to the auditorium where there is hugely expensive electrical and electronic equipment at risk.
"The fear is that the Health and Safety Authority would move in and deem the building unsafe.
"This has been going on for a year now and we need to address it as matter of urgency before it becomes to late," he said
A source at An Grianan Theatre confirmed there was a serious issue which needed to be addressed.
"We are not in a position to be seen to be giving out and complaining but something needs to be done.
"We have an amazing facility here but we need to protect it and money needs to be spend on these renovations," said the source.
********
Donegaldaily.com – Donegal's No1 News & Sports Website – more than 30,000 Visitors Every Day
Follow the leader on:
https://twitter.com/DonegalDaily
Tags: