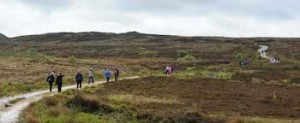 Mevagh Ramblers Walk
Mevagh Ramblers walking club have a 10K (approx. 3 hrs) walk this Saturday, March 2nd. The walk, which will be led by Eoin, begins at Singing Pub, Atlantic Drive at 10am and takes us up Gáinne, crossing Atlantic Drive, down onto Trá na Rossan beach and back to Singing Pub. It is quite hilly and will travel over mixed terrain, so proper footwear and clothing is essential. Bring snack and camera. Meet at Singing Pub at 10am.
Reminder, Mevagh Ramblers Walking Festival takes place from 1 – 3rd June inclusive. It is part of The Gathering. There will be 2 walks on Saturday, June 1st and Sunday, June 2nd. One a moderate walk and the other a strenuous walk. On Monday, June 3rd a Leisurely Informative/Historical Walk will take place. More details to follow.
Tags: