MORE than 70 protestors have rushed Garda lines as Taoiseach Enda Kenny arrived in Letterkenny just before 3.50pm.
They protestors are now situated outside the entrance to the gym hall at LYIT and are so noisy delegates inside can barely hear submissions being made to the British Irish Parliamentary Assembly inside.
The Taoiseach is due to address the assembly shortly.
Protestors from Can't Pay Won't Pay and the DAAA are taking part in the protest.
Derogatory comments were directed towards the Taoiseach as he arrived at LYIT where he was greeted by college president Paul Hannigan.
Gardai say they have counted 70 protestors.
Mr Kenny welcomed the Assembly to Donegal – with the protestors outside clearly audible inside the hall.
And he joked: "I know you've been talking about energy and I see there's some energy outside and inside today."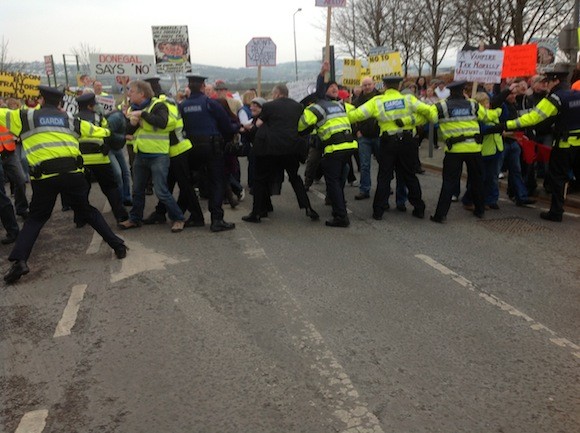 Tags: