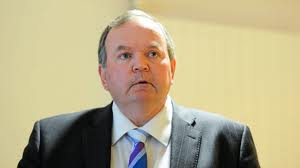 GAA president Liam O'Neill has condemned the Tyrone fan who spat at Donegal player Karl Lacey at Healy Park on Sunday.
Lacey was the victim of the disgusting incident as he left the pitch via the tunnel at the ground. He wasn't playing in the Division One clash with Tyrone.
Tyrone management has apologised to Karl and have said they will ban the fan – believed to be a pensioner – once he is identified.
"If the Tyrone County Board apologised, that's the correct thing to do," said O'Neill.
"I have always said that any behaviour that makes anyone feel less good about themselves or about being involved in Gaelic games is abhorrent to me.
"I wouldn't condone that type of behaviour and to spit at anyone is disgraceful behaviour.
"I really cannot understand the behaviour of anybody who insults or demeans anyone. It has no part in Gaelic games.
"My message to those people is 'we don't need you'. I don't want them in our organisation and I don't want them going to our games. I would appeal to them to go and leave our games to people who want to come and enjoy themselves."
Tags: