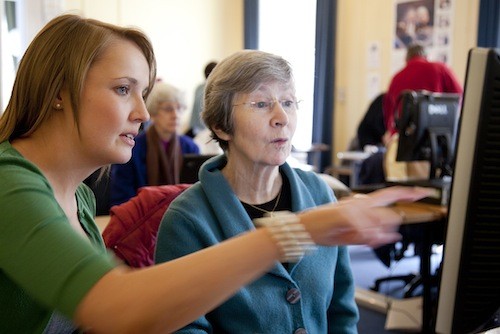 Students at Letterkenny Institute of Technology are giving something back.
The Tea, Tuition and Technology is an intergenerational programme in basic computers for the over 55's at LYIT in association with Age Action.
The aim of the 'Getting Started' programme is to introduce older people, with little or no previous computer skills to the basics of computers, email and the internet.
Learners will be taught onsite at LYIT on a one to one basis by student volunteers from the Friends in Time Community Outreach Scheme which was established by the LYIT Health and Social Society.
This one to one tuition will intilally run over a three week period – Thursday March 14 and 21 and Thursday 11 April 2013 from 12.30pm for a two hour duration.
Twelve places are offered on the opening phase of this pilot programme and are free of charge. If the interest is there, it is hoped to impliment the course on an ongoing basis within the college and to bigger numbers.
Age Action's Development Manager Pauline Power was contacted by LYIT student, Aaron Nepgen of 4th year Graphic Design, with his proposal of setting up this basic computer skills course for the elderly at LYIT.
Pauline says "In Ireland, approximately 300,000 older people over the age of 65 don't use the computer or the internet. 1 in 4 use computers, but 75% don't use computers because of a fear of technology. This initiative is a wonderful contribution to helping older people get connected online"
Age Action are very appreciative of the support from LYIT president Paul Hannigan and John Andy Bonar, Head of Development of LYIT for facilitating basic computer skills for older people at LYIT, thereby recognizing the need for positive aging campaigns in Ireland.
John Andy Bonar says "LYIT are happy to be holding a course of this nature in association with Age Action, where the learning interests of older people will be facilitated at a pace that suits them. Participants will benefit greatly in the capable hands of our student led tuition in the user friendly environment of LYIT." SU president, David Heraty has also welcomed the initiative and will provide collection and drop off of participants if required. All bookings for participation will also be taken by LYIT Student Union.
With technology being prominent to our way of communicating, more and more information is being shared online, with the result that older people are being socially excluded. There is huge demand for computer courses initiatives such as the one starting in LYIT, to bridge these generation gaps as well as to reduce isolation. Older people benefit greatly from being computer literate.
It can assist them to stay actively in touch with family at home and abroad via Skype or email. It can be beneficial to keeping an active mind with online card playing or watching videos just a click away. Learning is lifelong and it's never too late to learn.
A local resident, Peter Toner, a retired gentleman from Letterkenny says "It's great that young students are not only taking it upon themselves to educate older people on basic computer skills, but also taking their civic responsibility towards and having respect for the elderly."
Aaron Nepgen says "he was inspired to initiate such a programme after coming into contact with older people who struggle with technology."
Aaron is amazed at how quick his support network grew to facilitate the launch of the initiative. He is thankful that LYIT president Paul Hannigan and John Andy Bonnar, Head of Development of LYIT are fully committed to the cause.
If you are 55 or over, living in the Letterkenny area, and are interested in availing of this free course of one to one tuition in basic computer skills, please contact SU president David Heraty on 074 9186820. Or if you wish to contact Age Action about the initiative, phone Pauline Power, Age Action Development Manager on 01 475 6989.
Tags: