Ten Donegal companies are hoping for ultimate success next week after they succeeded in being shortlisted for the final of the Enterprising Donegal Business Awards.
The awards, organised by Donegal County Enterprise Board, are the most prestigious business awards in the county.
And no doubt there will be some anxious moments as the short-listed finalists await the results at the gala black-tie affair at the Villa Rose Hotel Ballybofey on Friday, March 22nd next.
The ten short-listed companies this year are: Castlefin Partnership Initiative; Letterkenny Community Childcare Ltd; Efficient Heating & Plumbing, from Cockhill in Buncrana; Stateside American Restaurant, Letterkenny; Boyce Chartered Physiotherapist, Letterkenny; Lough Derg, Pettigo; Gibson & Associate Solicitors, Letterkenny; Roadteam Ltd, Pettigo; Lone Star State Ltd, Letterkenny and Inishowen Tourism Society Ltd.
Donegal County Enterprise Board CEO, Michael Tunney, praised all of the finalists for demonstrating the type of commitment to succeed necessary to run a really successful business.
"As usual the adjudicators had a difficult job in finalising a short-list for the awards finals, but the ten businesses represented there have shown the kind of passion and desire that was spoken of so often during the recent Enterprising Donegal Business Week events," he said.
As well as the category awards for Community Business Award, Emerging Business Award and Business Achievement Award, one business will walk away with the coveted overall Business of the Year award and will go on to represent Donegal at the National Enterprise Awards in Dublin.
Previous winners of the overall award include Inishowen Country Kitchen, The Swilly Group, Gartan Technologies and DS Environmental Services.
Tickets for the black tie gala are €25 and are available by contacting the Donegal Enterprise Board Office on 074 9160735 or by e.mail: info@donegalenterprise.ie
County and City Enterprise Boards are funded by the Irish Government and co-funded by the European Union under the EU Structural Funds 2007 – 2013.
The Ten Finalists
Inishowen Tourism Society Ltd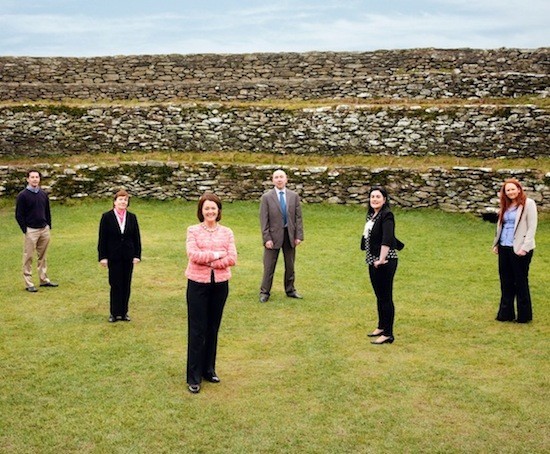 Inishowen Tourism has been in existence for over 20 years and is made up of a team of six full-time employees, with the capacity to manage strategic digital tourism development and marketing and fully exploit potential of tourism growth in the Inishowen region.
With a 200% increase in trade membership in the past 3 years and affiliated partnerships with Failte Ireland, Donegal County Council, Derry City Council and Derry Visitors Convention Bureau, the organisation is a hub of activity for tourism product development, marketing, digital, trade liaison and support and visitor services.
Its key aim is to improve the visitor experience and maximise the potential of tourism for the region.
According to Marketing Manager, Kathleen Gill, with trade membership increasing year on year, Inishowen Tourism is representative of the key stakeholders within the local tourism industry and therefore can measure, monitor and review the impact of national tourism strategies and developments has at local level.
And she says they are keen to build on the key projects and developments they have already undertaken and they are currently implementing a €150,000 national digital and marketing campaign called "My Inishowen" www.myinishowen.com which will showcase Inishowen's unique visitor experiences.
"We have designed and developed a new destination website visitinishowen.com and over the coming months we expect to add an online arts and craft shop, a mobile ready site with GPS, automatic linking of events and entertainment to other regional portals and quality photography and video content."
Indeed photography has already paid huge dividends for Inishowen Tourism with national and international coverage of the Northern Lights and Inishowen Killer Whales in the past year.
In addition, Inishowen Tourism has made huge strides in developing their social media strategy and growing an online community with Facebook and Twitter while their new comprehensive Visitor Guide is regarded as one of the most popular publications within the Failte Ireland Tourist Office Network.
Significant work has also been done on facilitating the development of a wide range of local tourism projects and events including Amazing Grace Park and Viewing Point, Arts & Crafts Trail, Inishowen Walking Guide and Feile An Grianan.
Kathleen also explains the benefits of Inishowen Tourism having a dedicated City of Culture Officer who is interfacing between Inishowen and Derry during this unprecedented year."We will be looking beyond the 2013 Derry City of Culture event to build on the momentum that a collaborative approach has had towards promoting the region. As a unique two-centre destination, we can offer visitors the contrasting experience of the vibrancy of a historic walled city and the escapism of a stunningly beautiful peninsula".
For more information click on www.visitinishowen.com or find them on facebook or twitter.
Efficient Heating and Plumbing
Efficient Heating & Plumbing were established in 2010 and offers a full range of heating and plumbing services including solid fuel boilers, wood boilers and geothermal heat pumps to domestic and business clients in Donegal and the surrounding counties.
The business has also acquired the distribution and installation rights for the Energie Thermodynamic Solar Panel System, a latest generation system that is capable of collecting solar energy all year round regardless of the weather. This leads to greatly reduced energy bills.
Christopher Lynch of Efficient Heating and Plumbing (EHP) explained that following in-depth research and analysis the company has teamed up with LVP Renewables (http://lvprenewables.ie) to offer, what he described as "the most efficient and cost saving thermodynamic solar panel system for the Irish climate."
He added: "As the exclusive distributors, EHP are responsible for installing the Energie Solar Panel systems in both new and existing homes throughout Ireland and Northern Ireland."
Meanwhile EHP's Jonathan Doherty says the Energie Thermodynamic Solar Panels can provide 100% of domestic hot water needs, 365 days a year.
"The solar panel system does not require any back-up from gas or oil to provide domestic hot water needs and therefore offers tremendous savings," he said.
Christopher added that the Efficient Heating and Plumbing team has over 15 years experience in the renewable energy industry installing solid fuel boilers, wood boilers and geothermal heat pumps for both domestic and commercial buildings.
"All our work is completed to the highest quality and only use the best products available," he concluded.
Lone Star State Ltd
Lone Star State Ltd is a Publisher of Transmedia Content, based in Donegal, specialising in creating original Multi-Platform Graphic Novels.
The company who have their headquarters at the CoLab at Letterkenny IT produce and publish original graphic novels in print and digital format.
In addition they also produce animated series, and smart phone Apps for viewing across all digital platforms for delivery, across the entire digital media space.
According to Peter Campbell the core ethos of Lone Star State is simply to tell great stories, using the entire gamut of digital platforms to do so.
"We have centred our operations on producing original graphic novels, which will be printed and distributed using traditional methods, and using Digital Delivery methods (Digital Publishing)," Peter explained.
With a number of projects ongoing, Peter says that the the company will launch its Graphic Novel series in print and as a series of Digital Publications and Native Branded Apps.
"As part of our overall business strategy, Lone Star State Ltd will be using "Transmedia" technologies to deliver the content through Digital Devices and platforms."
He added that Lone Star State Ltd is also developing an Animated Series based on an adaptation of the original Graphic Novels stories it has produced, and according to Peter, they too will utilize Transmedia storytelling to tell one large epic storyline across a suite of Apps, or "Appisodes."
Already Lone Star State has completed its first wave of products, a range of original digital graphic novels that were put on initial market release in Dec 2012.
"That range was comprised of two books/graphic novels (titled Lone Star Soul), that are the first in a planned series," said Peter.
They have, he said, been distributed digitally and are available as a Digital eBook on all devices such as the iPad, Kindle Fire, Nook, Kobo Reader and all Android Devices.
Lone Star Soul is a western with elements of sci-fi and is also available for sale and purchase on all major storefront vendors such as Amazon.com, Amazon UK, Apple iBookstore, iTunes, Barnes & Noble, Kobo Books and Graphicly.
"It was a good start for us and there was a terrific interest. Indeed, upon release, 'Lone Star Soul' achieved a ranking in the Top 30 Sci-Fi Graphic Novels Category on Amazon," said Peter.
Explaining that these products comprise of the first wave of books that will be followed by further releases, Peter has urged anyone with an interest in graphic novels and comics to keep an eye out for even further developments in the near future.
"Our website will be "opening for business" on the 18th of March at www.lonestarsoul.com and as well as having their Digital Distribution strategy, and route to market established, the company also will have exclusive Printed Editions of the Books / Graphic Novels (as well as a host of other products and merchandise) available on this website," Peter concluded.
Lough Derg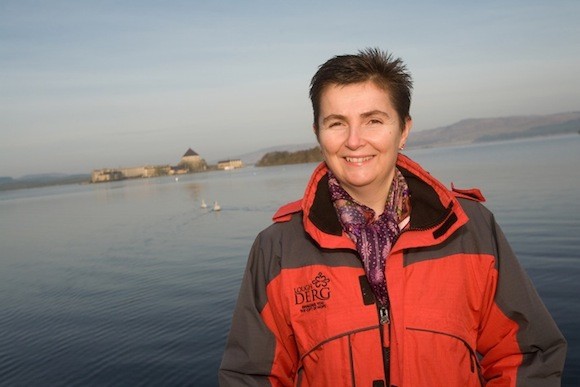 St. Patrick's Purgatory, or Lough Derg, as it is more commonly known is situated on a remote little island in County Donegal. It began possibly in the sixth century and certainly by the twelfth century it was well on its way to becoming one of the most renowned places of pilgrimage in Christian world. It has attracted pilgrims from all over Europe, survived puritan persecution and remains today as Ireland's most ancient place of pilgrimage, still vibrant and continuing to attract pilgrims from all over the world.
At a time when church attendance in Ireland is slumping, Lough Derg is growing.
It currently attracts in excess of 20,000 visitors annually, employing 10 full time employees and up to 60 seasonally.
In the last twelve years, the site has developed from being perceived as a devout catholic place of pilgrimage to expanding its programme so that in 2013 visitors are served by a diverse range of programmes which includes the traditional pilgrimage, to interchurch services, family days, mother and daughter retreats, art workshops, youth music events, school retreats, as well as international tour groups.
It has attracted much media attention in recent years due its tenacity to survive in difficult times for the Church, with US History Channel, French and German television, BBC and Nationwide just some of the media coverage enjoyed in 2012.
The Island facilities can also be used for private hire for conference/meetings.
Group heritage and cultural tours of the lake and Island are also offered primarily to international visitors, although there is increasing interest in this option locally.
The Prior, Monsignor Richard Mohan has been Prior since 1992, overseeing a host of changes to make the site more accessible and welcoming to as wide a population as possible.
Recognising the need for assistance to expand its appeal and widen its audience, he employed a Manager in Spring of 2001 (the first ever in Lough Derg's ancient history).
This was a brave and bold step considering the person appointed – Deborah Maxwell – was a Presbyterian and female in what had typically been a patriarchal organisation.
Deborah now oversees all operational aspects of the Island from operations to marketing to programme development and she says efforts at creating a diverse and far-reaching menu of programmes and events will be the indication that Lough Derg is proactive and dynamic, and is trying to address the needs of today's pilgrims.
"We need to be sure to carefully employ staff who can share the message of hope strongly with pilgrims, so those that come, go away renewed and refreshed and with a more optimistic message and positive feeling," she concluded.
Gibson & Associates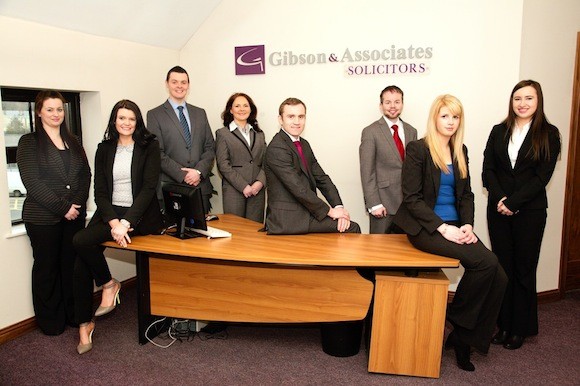 Gibson & Associates is a firm of Solicitors established in Letterkenny in July 2009, having developed from the firm of Gibson & Kelly.
The firm has developed at an exceptional rate, with its most recent expansion including the acquisition of Colgan & Co Solicitors, an established Dublin based firm.
With a highly skilled team of Solicitors specialising in a number of areas of law, the local firm has branches based in Donegal, Dublin and London, allowing them to provide services locally, nationally and internationally.
Daireann Gibson, has, in a three year period, grown the business from employing two people to one now employing 14, noting that he had spotted a gap in the market for a high end legal service at a reasonable price when he established the firm of Gibson & Kelly Solicitors in 2007.
That partnership evolved into Gibson & Associates Solicitors, growing hugely in the process over a three-year period, partly he suggests due to the highly-skilled team now at their disposal.
"We have a highly skilled team of Solicitors offering advice in a number of areas of law, in particular, Insurance/Arbitration, Insolvency, Immigration and Commercial Litigation. A testament to the quality of legal advice and excellent standard of care provided in these areas is the number of clients that have engaged and are continuing to engage with the firm since 2009. The firm not only has an established client base within this Province but has developed a national and international client base of over 4000."
With investment in staff training and a high degree of focus on ensuring transparency in terms of fees, he adds that the firm places a huge emphasis on communication with their clients.
"We believe that client communication is paramount and ensure to keep our clients up to date on all aspects of their case. We adopt a policy of copying our clients on correspondence relating to their case and returning calls within the day, so that that client is fully up to date with their case, as and when required. We are dedicated to understanding the business of our clients and the issues that they face, which consequently allows us to build a relationship with them and quickly work towards a successful and practical solution."
Having already successfully identified a number of different market niches the firm is confident that they can continue to identify emerging areas that do not at present exist, and develop these as a first to the market, for the benefit of both its new and existing clients.
The Donegal firms maintain a strong local and community ethos as well and the firm has provided free legal advice to several local sports clubs and charities, but they are ambitious too and future plans see them aim to develop the brand of Gibson & Associates, so that it is instantly recognisable and a market leader both regionally and nationally.
"Our ambition is to become one of the top 30 Law firms in Ireland within 3 years and top 25 within 5 years," Daireann concluded.
Boyce Chartered Physiotherapist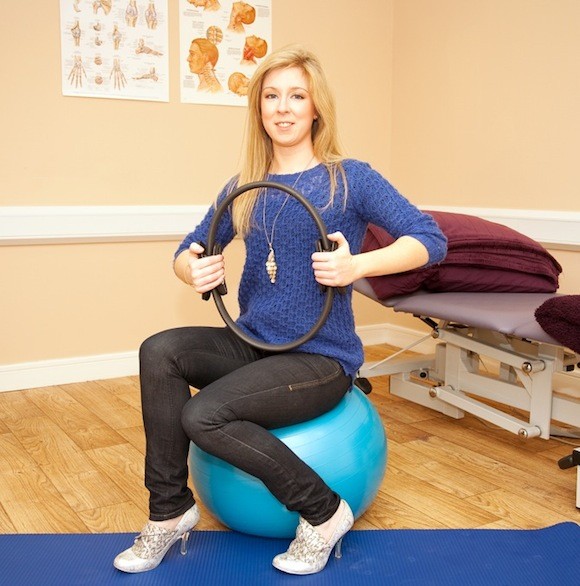 Since November 2012, Lorraine Boyce has provided Physiotherapy services at the central location of O' Boyce's Corner, Letterkenny.
Lorraine graduated with a BSc (Physio) degree from University College Dublin in 2007, and despite graduating third in her class with a first class honors degree, she was faced with limited job prospects in Ireland as fewer basic grade physiotherapists were being recruited in the lead up to the recession. When an employment opportunity arose within a busy Physiotherapy practice in New Zealand, Lorraine seized the opportunity to work in her chosen field and gain experience.
"With intensive mentoring, I gained valuable skills in treating a wide range of injuries and disorders, including spinal injuries, sports injuries, overuse and repetitive strain injuries, postural dysfunction and nerve injuries," she explained.
Her stay in New Zealand also saw her act as Physiotherapist for Paraparaumu Rugby Football Club, and she furthered her interest in Pilates by training as a Pilates Instructor.
Since returning home from New Zealand, she accepted the role as Honorary Secretary of the North West Branch of the Irish Society of Chartered Physiotherapists for two years and has undertaken a Graduate Diploma course in Acupuncture with University College Dublin, balancing a busy clinical schedule with weekend lectures.
With post-graduate training in Spinal Manual Concepts, Biomechanics and general Musculoskeletal Therapy, Lorraine believes in provision of quality care that is evidence-based. 'I believe that it's very important to not just treat the symptoms of an injury, but to consider what contributed to its development in the first place and what can be done to prevent its recurrence in the future', she said.
Lorraine offers Pilates classes ranging from beginner to advanced level at Letterkenny Community Centre and Optimal Fitness. As a Chartered Physiotherapist, Lorraine's attention to detail when it comes to instructing participants in technique and control, is one reason why her provision of this service has expanded substantially, with the introduction recently of men's Pilates classes and Pilates for teenagers.
Lorraine is readily able to address any core conditioning issues someone may be experiencing. "Weakness of the Core Muscles can arise in various situations, whether it be in relation to sport, pelvic girdle pain in pregnancy or chronic low back pain to name but a few," she said. "For the injured sports person, Pilates core stability exercises can be a key factor in their rehabilitation that allows them to return to sport with confidence" she added.
Many new opportunities are on the horizon for Lorraine Boyce Chartered Physiotherapist, as she looks forward to providing post-surgical rehabilitation to clients within the orthopaedic department of a private hospital in the coming months.
Despite challenging economic times, Lorraine has shown that there is great potential for young entrepreneurs and small local businesses. "Establishing a new business is a daunting prospect, but I appreciate the network of support that is available through the Donegal County Enterprise Board, the Chamber of Commerce and the Women in Business Network, and the positivity there has been in general from fellow health care professionals and local businesses," she concluded.
Stateside Restaurant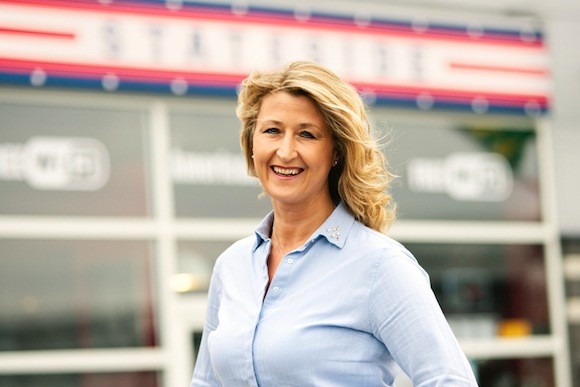 With a strap-line of "A real Taste of America," Stateside American Restaurant aims to offer customers, not just American-style food, but also excellent service, fun themed décor and buzzing atmosphere.
Owned by Patricia Hill and her husband Tommy, the popular Letterkenny restaurant employs 28 people, including six full-time staff and projects that to increase even further this year.
Patricia moved into the restaurant business after a career in banking, but says she always wanted to run her own business and after several visits to America believed an American-style restaurant would work in Letterkenny.
"I have travelled to America on a number of occasions and each time I ate in the States, I always asked myself "why don't we have this in Letterkenny?" Patricia said.
She realised that goal in 2011 when Stateside was opened, and since then they have grown in popularity to such an extent they even received a Tripadvisor Excellence Award in 2012.
Part of the popularity of Stateside, Patricia puts down to the terrific range on offer on their menu.
"We provide a safe, family friendly, good value experience for the people of Letterkenny and indeed the rest of Donegal and surrounding area. The food that we supply includes wings, ribs, steaks, burgers, chicken, salads and a Mexican style food from our "South of the Border" section. We cook fresh to order and have a fantastic kids menu."
But it's more than just the menu that brings people back, she believes and another key factor in helping the business develop over the past few years has been the fantastic team built up at Stateside.
"We have a great team within the Restaurant with Ricky McElwaine, a native of Convoy, being our Head Chef. Ricky worked along with me prior to opening and he is a priceless asset to the company. Ricky and myself worked together to build a fantastic team who all see the same vision as we do. We share an ethos for excellence and everyone works extremely well together to make things happen. We provide what the people of Donegal need in a family dining experience."
Looking to the future the Stateside owner says she is already planning new ways to diversify and possibly even expand and a new healthy options range is already in the pipeline.
"We are keen to move into educating our customers as to what the Healthy Options are. This is a very exciting move as many people feel that American Food is unhealthy but all food at Stateside is fresh and cooked to order. It is produced from raw products and not re-constituted products and we will be working on re-educating our customer base and others in the locality," she concluded.
Roadteam
Roadteam Ltd is a Pettigo-based road recycling company that restores road surfaces to original conditions reusing the existing road materials.
Established in 2008 as a road maintenance alternative for the public and private sectors, their goal is to provide a cost effective solution for road repairs.
Adrian Britton of Roadteam suggests that from an economic stance their service should see a cost reduction of up to 60% over traditional methods.
He explained that, employing state of the art equipment, the road surface is broken up, crushed, graded and made ready for resurfacing.
"Recycling road materials has moved steadily up the construction agenda and with increasing pressure to reduce the environmental impact of road construction, Roadteam Ltd have sourced the most efficient machinery for road regeneration," he added.
And, he maintained, the advantages to the road maintenance bodies of using recycled materials are substantial and can directly reduce costs.
Among the added benefits right across a project would include reduced costs and CO2 emissions, reduced need for imported materials, reduced project time and energy use and the reduced amount of heavy hevicle movements over existing roads
"The process of reusing existing road materials definitely helps Roadteam offer a hugely superior service to traditional road repair methods in terms of cost, project duration and environmental friendliness," says Adrian.
The business, which employs 8 people, was awarded ISO 9001 and ISO 14001 in December 2012.
Castlefin Partnership Initiative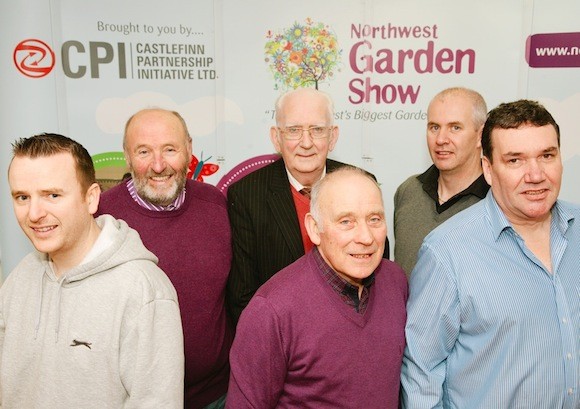 Castlefin Partnership Initiative (CPI) was established in 1999. Since its inception the Partnership has successfully completed all phases of an extensive development project.
The first seeds were sown at a meeting in October 1999 when a meeting of representatives of the various community groups active in the Castlefinn area was held.
The outcome of this meeting was the establishment of an umbrella organisation representing various interest groups in the community, to be known as Castlefinn Partnership Initiative Limited (C.P.I. Ltd.)
The group undertook a community needs survey to identify the needs and desires of the community. The results of the survey were analysed. From the findings C.P.I. Ltd. was established and the aims and objectives of the company were clarified.
The group set about to promote and encourage the social, cultural, educational, training and sporting needs of the community and the economic development, through job creation, in Castlefinn and its environs.
In addition it aimed to provide or arrange for the provision of a range of services including commercial floor space, health services and childcare facilities, which would benefit the economic and general welfare of the community.
They also aimed to provide for the members of their community, a neutral venue not under the control or influence of any organisation, political or other.
Today the group boasts a range of first class services and facilities including health services, childcare and training facilities, a multipurpose hall, outdoor children's play area and the development of outdoor recreational areas. The Partnership also hosts the nationally acclaimed Northwest Garden Show and is currently developing the Whitehouse Garden, which will be officially opened on 28th June.
Letterkenny Community Childcare Limited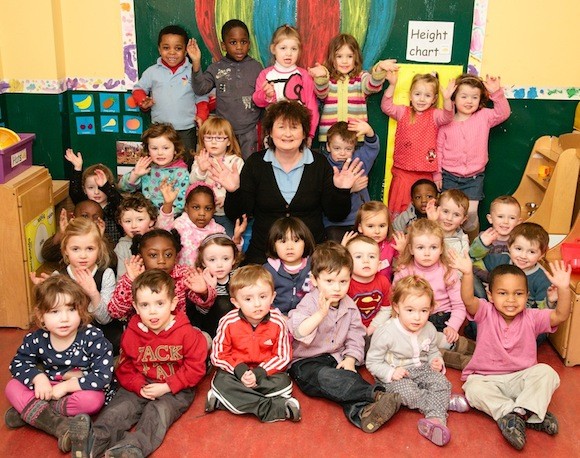 Now open for 51 weeks of the year, Letterkenny Community Childcare Centre Limited was originally a sessional preschool founded in 1983 by a group of volunteers anxious to meet Community needs.
Catering for children aged 6 weeks to 10 years, the centre has grown enormously from its early days and is now recognized as an all-Ireland centre of excellence.
In November 2003 the company opened its purpose built full day-care Childcare Centre at a Donegal County Enterprise site, catering for 28 children on a full, part-time and sessional basis and employing eight people.
Since then it has expanded enormously and currently 90 families and 112 children avail of the centre's services, while there are now 18 people employed there.
In addition it provides training and development for 2 Community Employment Scheme workers and 1 TUS worker.
The increased staffing levels followed expansion of services that saw a second service opened in 2012 to provide sessional pre-school under the Department of Children Early Childhood Care and Education scheme, creating three full time positions in the process.
Coordinator Geraldine Burke who worked as a volunteer in the organisation for around 10 years prior to becoming the first official employee, explained some of the reasons behind the centre's success.
"The Centre is open to all sections of the Community on a first come first served basis and works closely with the HSE and local charities by supporting families caring for children with special needs and families experiencing difficulties," she explained.
Adding that the organisation has been recognised as a Centre of Excellence in Ireland since 2008, Geraldine said she had taken the post with Letterkenny Community Childcare Ltd because she felt she could make a difference to the early sector, based on her knowledge and experience with young children.
A real driving force in terms of development, Geraldine was instrumental in forming a limited company and gaining charitable status when she recognised that the organisation needed to expand to meet fully the community needs.
"In 2001 the Government announced the 'Equal Opportunities Childcare Programme' (EOCP) funded by Europe under the National Development Plan. The aim of this initiative was to get women back into the workforce. I then project managed a grant application for EOCP to build, equip, and staff a full day-care Community Childcare Centre, working with Donegal County Enterprise Fund (DCEF) on the design of the building which was erected on their land."
The full day service opened in 2003 and the organisation is now a Company Limited by Guarantee, governed by a Voluntary Board of Directors of which Geraldine is the Company Secretary as well as Coordinator of the Childcare Centre with day to day responsibility for management of the service.
Operating under the principles of Siolta the National Standards for Pre-school services and Aistear the pre-school curriculum, the Centre now has five distinct areas, babies, toddlers, pre-school full day, pre-school sessional and afterschool. Facilities also include two safety surfaced outdoor areas, a garden and an indoor physical area.
Tags: