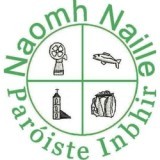 Naomh Naille Club Notes
Slotto: There was no winner of this week's jackpot. Numbers drawn were 5 2 7 3 6 1 4. The consolation prize of €80 went to Eugene Carr, Mountcharles. Next week's jackpot will be €2,440. Thank you all for your continued support.
Club Monthly Meeting will take place this Monday the 25th in the club house. Ladies and Minor Meeting at 8 and Senior meeting at 9. Everyone is welcome.
Cardiac Screening will take place in the clubhouse on the 6th of April. The new official St. Naul's club telephone number is 087 7034777. Anyone interested in getting screened needs to contact the above number before the 30th of March in order to book an appointment. The cost is €45 per person. This is a great opportunity for all players or parents so please avail of the opportunity.
Club membership is still available only for another week and a half for 2013. Closing date for membership is 31st March. Please get it as soon as you can to help facilitate the club registrar. It is available from Frankie Greene (087-2746023), Cieran Kelly (087-2450505) or Joe Brennan (087-1202900).
Donegal GAA Fundraiser: The Donegal GAA is holding a Fun Run & Walk Day in Ballybofey on Saturday 6th April at 11am. All clubs in the county are taking part & expected to have at least 10 people participating in this event. Sponsorship cards for the event are available from Cieran Kelly (087-2450505).
DVD's of the Fight Night are now on sale from Frankie Greene, Joe Brennan or Londis. They are only €10 each with a free program for a souvenir.
Game Results: Hard Luck to the Minors who lost out to Bundoran at home on Saturday last but hopefully they will get their form and a win this week against Ardara.
The seniors had a great win away to Glenfin at the weekend; they are now through to the County Gaeltacht Final's which will take place in Glen on the May Bank Holiday.
The Ladies Training Schedule for the coming year is as follows: Tuesday 6:00-7:15 – U12, U14 + U16 followed by Senior Ladies at 7:30-9:00. Also Friday: 6:00-7:15 U12, U14 + U16 followed by Senior Ladies at 7:30-9:00.
Tags: