Gerry McGreevy Wins Monthly Medal At Dunfanaghy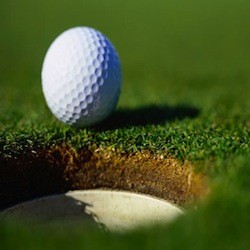 Our little protected area of Dunfanaghy hills usually ensures we get the best of the available weather and so it was last weekend when the course was packed again to capacity with the Ladies Branch playing for their Easter Hamper and the Gents out in force for the 4bbb on Saturday and the monthly Medal Competition on Sunday.
It was a fine score from Gerry McGreevy on Sunday that clinched his Dunfanaghy Medal with a 62 net which was 4 shots ahead of his nearest rival.
On Wednesday we again had a tussle for the top price with Fergus Mullen featuring again this week but again being beaten for the top slot. This was won by Gerry Doohan with 44 pts. Fergus took the second prize while Dan Canning netted Third with 41 pts. John Hanna, now a low handicapper, took the gross.
Friday's competition saw a return to form, though it never left him, of Neil McGinley who came home with a score of 29 pts (for 14 holes). John McKendry was second with 28 pts on BOT.
Saturday was our usual 4BBB competition and this week saw Svan Gallagher and Joe Kirwan taking the top slot with John Chambers and Ken Armstrong picking up second on BOT.
Sunday was a different beast altogether with some rain early on but the day cleared nicely and the scores reflected this. This was our Monthly Medal Stroke Competition and all the winners of the Monthly medals have a playoff competition at the end of the year.
Gerry McGeevy crushed the rest of the field with a score of 62 net while Daniel Gallagher came second with a 66. this is a great score as Daniel is a really low handicapper so he has no shots to play with at all any any mistake is costly. Very well done Daniel. Cathal McMonagle took the Gross prize and Brendan Kelly, last weeks winner, picked up third on BOT.
Not to be forgotten Colin Higgs won the front nine and Gerard McGinley has had a nice return to golf with a 33 on the back nine.
Wednesday 13th March: Gents Open Stableford
1st: Gerry Doohan 44 pts
2nd: Fergus Mullen 43 pts
Gross: John Hanna 28 pts
3rd: Dan Canning 41 pts
CSS: N.C
Friday 15th March: Ladies & Gents Open 14 Hole Stableford
1st: Neil Mc Ginley 29 pts
2nd: John Mc Kendry 28 pts BOT
CSS: N.C.
Saturday 16th March: Gents Open 4 BBB Stableford
1st: Svan Gallagher/Joe Kirwan 46 pts
2nd: John Chambers/Ken Armstrong 45 pts BOT
CSS: N.C.
Sunday 17th March: Gents Monthly Medal Stroke
1st: Gerry Mc Greevy 62
2nd: Daniel Gallagher 66
Gross: Cathal Mc Monagle 77
3rd: Brendan Kelly 68 BOT
1st 9: Colin Higgs 30.5
2nd 9: Gerard Mc Ginley 33
CSS: N.C.
Usual Competitions this week with a 4BBB on Saturday and the Gents Easter Hamper competition is on Sunday.
Muckish Ramblers are out on Saturday at 9.30 am so meet at 9am for draw in Dunfanaghy Clubhouse. Meal Available after the Golf.
Tags: