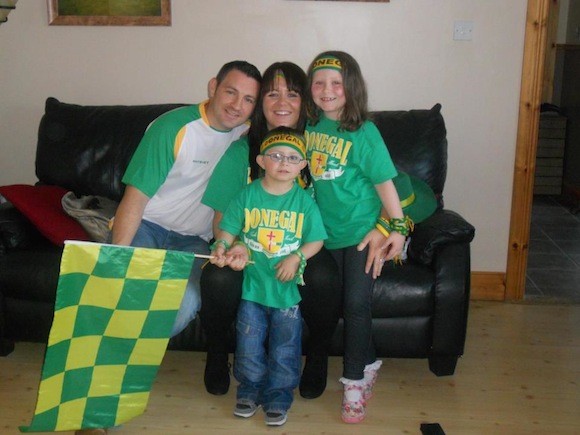 A Donegal father and son have become poster boys to highlight the need for kidney donors across Ireland.
Five year old Christian McCullagh from Raphoe, Donegal received a kidney transplant in October 2012.
And amazingly it was his father Gary who was the living kidney donor.
Christian was born 5 weeks prematurely with very poor kidney function. He was on life support for the first two weeks of his life.
A patient of Temple Street Hospital he had been receiving a form of home dialysis for three and a half years for 10 and a half hours at a time, 5 nights a week.
Now Christian is fighting fit and back leading a normal life thanks to dad Gary and the organ donor transplant team.
Organ Donor Awareness Week starts tomorrow (SAT) and lasts all week.
The swings of Irish donation figures from year to year, was highlighted by the Irish Kidney Association at its launch by the Minister for Health, Dr. James Reilly, T.D. at the Mansion House.
2010 was almost a record low for organ donation, 2011 was a record high and 2012, at 17% less than the previous year, was below average.
The Irish Kidney Association Chief Executive, Mr. Mark Murphy said, "I don't know of another European country, even of a similar size population, with such wide swings in deceased donor activity".
"Unless the required infrastructure and funding is implemented in the Republic, the Organ Donor Consent issue is irrelevant at this time as there is much more to do here before such deliberations take place."
Attending the launch was RTE Liveline presenter Joe Duffy who, for the third year in a row, is fronting campaign, which aims to increase the number of organ donors. The annual organ donor awareness campaign is organised by the Irish Kidney Association and supported by the Irish Donor Network and will take place from 30th March until 6th April, 2013.
At the campaign's national launch, Mr. Murphy said "the willingness of the Irish public to donate is not the problem when it comes to organ donation. It is the lack of the required infrastructure, an organ donor registry and the employment of fully trained organ donor coordinators in all our hospitals. This is proven by the top 10 European donating countries that have identified and invested in infrastructure to achieve 30 donors per million of population (pmp) successfully and affordably."
"The Irish public should not be misled that the proposed change in the name of the consent system from 'Informed Consent' (opt in) to 'Presumed consent' (opt out) would increase our current rate in organ donation from its current 20 per million of population (pmp)." Nowhere in Europe does 'presumed consent' actually take place in practice. Regardless of legislation, they all have come to realise it is not a practical system. The relatives are always consulted and can veto any organ donation process."
The Irish Kidney Association welcomes the calling by the National Organ Procurement Service for an audit of activity on potential organ donors in hospitals which would identify where improvements might be made and address the 'unpredictability' from year to year.
2012 was almost an average year for deceased organ donors at 78, down from the record set the previous year at 93, but only 2 donors off the 5 year average of 80 per year.
Thanks to the generosity of 78 deceased donors and their families, 206 transplant operations took place in Ireland in 2012. 3 of the deceased donors were non heart-beating donors/cardiac death donors, following from the first one the year before.
The 131 deceased donor kidney transplants, were complimented by a further 32 living donor kidney transplants and a further 3 Irish patients received specialist living donor transplants in the UK. The total of 166 kidney transplants, in the year, is above the 5 year average and is due to the increase in living donors. Mr. Mark Murphy commented that, "Replacing deceased donation by living donation is a concern. Living donation needs to remain complimentary to deceased donation – not its replacement".
At 50, the livers transplanted were slightly less than the 5 year average of 54.2.
Heart transplantation was well above average with 10 transplants being performed in 2012, up from 6 in 2011.
Lung transplantation showed the greatest increase in the year with a record of 14 transplants for 2012. (10 single and 4 double lungs transplanted). This was 75% more than the 8 transplanted in 2011 and double the 5 year average of 7. A further 6 lung transplants were conducted in the UK on behalf of Irish patients. In total, 20 Irish patients received transplanted lungs last year.
There are currently 1828 people in Ireland receiving dialysis treatment. In 2012 the number of patients with End Stage Kidney Disease (ESKD) grew by 45 or just over 1% in the year.
Also presenting at the campaign launch event was Mr. Martin Doody, Chairman of the Irish Kidney Association. The patients' organisation is celebrating 35 years since its foundation. Mr. Doody welcomed the option for applicants for the new format driving licences to tick a box indicating their willingness to be an organ donor for organ donor. He said that so far the Road Safety Authority data has revealed that 35% of applicants have ticked the box which is represented by the code, 115, on their driving licence. Mr. Doody expressed his optimism that such data collection might pave the way for the beginning of an organ donor registry.
Organ Donor Awareness Week also serves as a fundraising exercise for the Irish Kidney Association. Throughout the Week (30th March- 6th April, 2013), the Association's volunteers will be out on the streets, and in shopping centres throughout the country, selling 'forget me not flower' emblems (the symbol of transplantation), brooches, pens and shopping trolley discs. All proceeds will go towards the Irish Kidney Association's aid for patients on dialysis and those patients fortunate enough to have received a kidney transplant. 75% of the IKA's funding is from non-statutory fundraising and donations.
The programme includes the management of a 10 double room free accommodation facility for patients and their families in the grounds of Beaumont Hospital and holiday centres located in Tramore and Kerry, together with patient advocacy, advice, financial aid and rehabilitative work placement, health promotion and the provision of kidney patient information and education.
Organ Donor Cards can also be obtained by phoning the Irish Kidney Association LoCall 1890 543639 or Freetext the word DONOR to 50050. Visit website www.ika.ie It is now possible to store an organ donor card, the 'ecard' on Smart mobile phones. Simply search for 'Donor ECard' at the IPhone Store or Android Market Place.
Almost 3000 people in Ireland are enjoying extended life away from hospital as a result of receiving organ transplants. There are currently over 600 people in Ireland waiting for life-saving organ transplants including heart, lung, liver, kidney and pancreas.
The first successful dialysis treatment in the world took place in the Netherlands on the 17th of March, St. Patrick's Day in 1943. Now, 70 years later 2.7 million people worldwide are being treated for kidney failure. 2.1 million of them are treated by dialysis and 600,000 of them have a kidney transplant.
Tags: