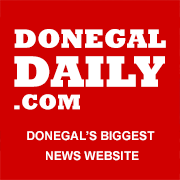 Vice-Chair of Friends of Letterkenny Hospital , Peter Cutliffe, has urged the public to get actively involved in this year's Brian McCormick Sports/Donegal Daily "10k road race" in Letterkenny on Sunday , May 5.
"We are very fortunate to be one the three main charities to benefit from this years event along with Donegal Mountain Rescue & SNAP & we would like to thank the "10k" committee for this opportunity", said Mr. Cutliffe.
"I would encourage all walkers, joggers & runners to participate in this fun-event which also raises funds for local charities," he said.
If interested in participating, please log onto www.northwest10k.com .
Sponsorship cards are also available from the "Friends of Letterkenny Hospital " office on 074-9104466 or any of the other participating charities.
Tags: