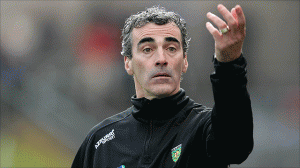 JIM McGUINNESS wasn't happy at how Donegal drew with Dublin yesterday – nor was he happy at some of the refereeing decisions.
But the Donegal manager has played down the significance of relegation to Division 2 of the National League.
And he reckons it might even help Donegal in the long run, especially when preparing for the Championship.
"It isn't the end of the world for us," said Jim.
"It doesn't make a difference for us. We don't really like the League to be honest.
"We like to bring them down and make them fresh for championship to have them ready for the summer. It is very hard to balance that with winning games, particularly in Division One."
Most Donegal fans will understand where he is coming from – even if many are still angry at the refusal to give a blatant penalty…and a last minute free to Dublin that never was.
"It isn't a big issue for us. We'll rebuild in Division Two – not that we'll be rebuilding but it'll be a wee bit easier on us in terms of the opposition we'll be playing." said the Glenties man.
"It'll give us a chance to roll out our annual plan easier than it has been this year and last year. We have no problem with being relegated; it is just the manner in which it unfolded."