Good News Exclusive! A loving mother arranged the perfect 21st birthday present for her son – a personal phonecall from music legend Garth Brooks.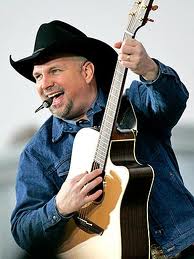 Evelyn McLaughlin thought she had nothing to lose by writing to the millionaire singer with her secret request for only child Malachy.
The Dungloe woman didn't know Garth's address so she looked up his website and simply addressed the letter to Garth Brooks, The Ranch, Oklahoma, USA.
She told Garth how her son was his biggest fan and how it would make his day if he could send Malachy a card.
"I thought I had nothing to lose other than a few minutes writing a letter and didn't really think too much more about it after that," said mum Evelyn.
But when an American voice appeared on the end of her mobile phone on Wednesday morning last, Evelyn knew it was for real.
"I hadn't told anyone I had written to Garth so I knew it must be true.
"I didn't want to disappoint Malachy if Garth didn't come back to him so that's why I kept it to myself.
"Malachy was still half asleep in the bed when Garth called because we had partied a little too much on the actual night of his birthday the night before," laughed Evelyn from Meenmore Road, Dungloe.
Malachy had spent the previous night singing Garth Brook songs and went to bed a little worse for wear.
But cool-as-a-cucumber Malachy simply took the call and chatted to the singer for almost half an hour about everything from music to the weather.
Malachy explained to Garth, 51, how he suffered from a heart complaint, a transposition of the arteries, and had spent a lot of time at Crumlin's Children Hospital and now The Mater.
He also revealed how he has raised more than €8,000 as a thank you to Crumlin.
And Garth even promised to send on Malachy a bag of goodies including some of his albums
Malachy said his philosophy is that everyone is equal and he wasn't too phased by the fact of getting a birthday phonecall from a megastar.
"We had a bit of craic and Garth was really sound. We just chatted about this and that and I told him I'd probably see him for a pint when he was over in Ireland again, said Malachy.
Tags: