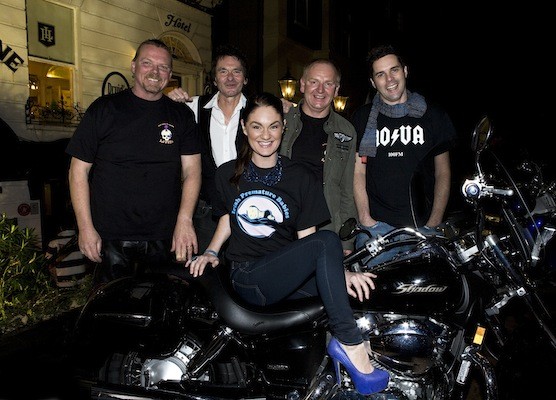 In what has become an annual event, a group of motorbike enthusiasts will take to the roads on Thursday, 25th April to raise funds for life-saving equipment for Neo-Natal Intensive Care Units and Special Care Baby Units in hospitals from Letterkenny to Limerick.
The four-day 'Ride Out For Prems Motor Bike Road Trip Challenge' will take place between 25th and 28th April to help raise funding for vital equipment such as incubators, heart monitors, ventilators and apnoea monitors.
The equipment will help babies who have been born premature and may have developed complications or need extra support in the early stages of their lives.
Over the four day road trip in the West, the motorbike fund-raisers will visit Neo-Natal Intensive Care Units in Letterkenny General Hospital, Sligo General Hospital, Mayo General Hospital, University Hospital Galway and St. Munchin's Unit, Limerick.
This will give them a unique insight and opportunity to see firsthand what a difference their fundraising efforts are making. The bikers will also be able to meet with the parents and medical staff that they are helping through their fund-raising motorcycle ride.
Irene Dowling of the Irish Premature Babies Association says; "We are delighted that the motorcyclists are going to "ride out" for vital life-saving equipment for babies in the neo-natal and special care units. Every rider had to raise €1,000 to go on this trip, so it was a huge commitment by these people to help out, many of whom had no ties to prematurity or the charity.
"The bikers were so emotionally touched from last year they signed up straight away and are striving to make a huge difference to babies and families this year. Members of the IPB team have worked tirelessly in this fundraising event, which has accumulated in up to 30 bikers participating in the road trip and visiting nine Neo-natal units around the country."
On Thursday, 25th April, the saddle-bound fundraisers are expected to arrive at Letterkenny General Hospital at 5pm and will spend some time in the Neo-Natal Intensive Care Unit there.
On Friday, 26th April, they will head to Sligo General Hospital, arriving at around 10.15 am, and then on to Mayo General Hospital, arriving at 1.45pm. They will then journey towards Galway City, and are expected to visit the Neo Natal Unit at University Hospital Galway at around 4.30 pm on Friday afternoon. On Saturday, 27th April, the fund-raisers will continue on towards Limerick and are due to visit St. Munchin's Regional Maternity Hospital at around 10 am.
To find out more or to learn how to join, please log on to the website www.irishprematurebabies.com and register in the events page or email irishprematurebabies@gmail.com If you wish to donate to the Irish Premature Babies Association, you can text prem to 57802.
Tags: