Noel Maguire wins Dunfanaghy Open.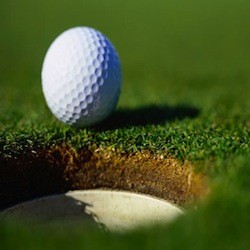 At last there is a trace of summer in the air and a bit of heat on the golf course. The conditions have been super for golf and the only downside is that the growth in the grass is only starting to appear. This is making the fairways quite tight in Dunfanaghy but given the crowds of people playing the course is in fine condition.
Any visitors to the course are well pleased with the conditions and possibly their playing.
And so it was when Noel Maguire last Wednesday sauntered home with a magnificent score of 41 points nearly a country mile from second place at 38 points BOT GERARD Dickey just managed to hold on to the lead over Stephen Melly.
Again the gross was won by Donal Boyle. Donal wins the gross quite a lot in Dunfanaghy but its no mean feat as Donal is off 1 or maybe scratch so to be that consistent really deserves big congratulations.
Saturday was a beautiful day for golf with heat in the sun and the course so dry. Freddie Stewart and Tony Griffin again took the honours with a fine score of 61 net. They were closely followed by Nigel Doherty and Nelson Dawson with a 62.
Now on to Sunday. Our Captain Michael Kelly will rue that missed putt on 13 that allowed Charles Roarty Jnr to just nip ahead and beat him on BOT. Both players had 37points but Charlie just managed to be slightly better on the back nine.
Again the third place was decided on BOT with Brendan Kelly coming out on top with 36 points. Daniel McColgan won the gross with 30 points.
RESULTS:
Wednesday 24th April: Gents Open Singles Stableford
1st: Noel Maguire 41
2nd: Gerard Dickey 38 BOT
Gross: Donal Boyle 35
3rd: Stephen Melly 38
CSS: 37 pts
Saturday 27th April: Gents Open 4 BBB Stroke
1st: Tony Griffin/Freddie Stewart 61
2nd: Nigel Doherty/Nelson Dawson 62
CSS: N/A
Sunday 28th April: Gents Club Singles Stableford
1st: Charles Roarty Jnr 37 BOT
2nd: Michael Kelly 37
Gross: Daniel Mc Colgan 30
3rd: Brendan Kelly 36 BOT
CSS: 37 pts
This weekend sees a pile of golf on for everyone.
Friday is the usual 14 hole competition and Saturday is a 4BBB open competition. Sunday is a club singles stroke competition.
This weekend is also the Northern Bank Holiday and on Monday Dunfanaghy are hosting the ST Michael's Classic Competition.
Price for this is €80 per team and there are still some spaces so contact the Clubhouse for your slot.
Tags: