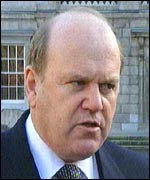 Sinn Féin Finance Spokesperson Pearse Doherty has said the government updated Stability Programme has again shown that austerity is not working.
Deputy Doherty said Minister Noonan must use the forecasted overshoot of €1.5billion to give ordinary people a break in the budget for 2014.
Speaking today after the government published its updated stability programme Deputy Doherty said: "The government has had to drastically reduce the number of jobs it predicted it would create by 2015 from 69,000 to 52,000.
"It has also had to reduce its growth forecast to 2015 from 8.2% to 6.5%.
"The predicted unemployment rate for 2015 has been increased from 11.7% to 12.8%.
"All of this is because the current policy of austerity is failing and the government needs to come to terms with that fact.
"It must also recognise the real hardship that austerity is causing to low and middle income earners across the country many of whom are struggling to keep a roof over the heads of their families and put food on the table.
"It is predicted that we will overshoot the deficit target for 2015 by €1.5billion yet Minister Noonan is determined to plough on with this austerity programme. This is wrong.
"He must use this overshoot to give ordinary people a break from the hardships they are facing day in and day out.
"The Minister seems to care more about pleasing the faceless markets than he does about the ordinary struggling people in this state."
Tags: