Termon senior ladies came out on top at the burn road overcoming a young Moville side. After an opening game in the Under 16 'A' league in which a well drilled Moville team triumphed over the Termon challenge, the tables were turned in the senior match.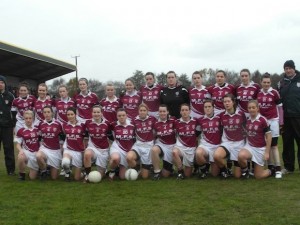 The first half saw the majority of goals with Emer Gallagher, Geraldine Mclaughlin and Roisin Yankee netting the majors for Termon. Moville's opening goal came from an excellent flowing attack started by Niamh Mclaughlin in her own defence and finished to the Termon net by the impressive Kathy Mclaughlin. It could have been followed soon after with another goal for Moville as they again moved the ball swiftly through the Termon defence only for keeper Laura Gallagher making an excellent stop with the boot keeping Moville at bay. Termon kept the pressure on the Moville defence by kicking a number of points, two of the best coming from Grainne Mcdaid and centre half back Therese McCafferty storming forward to kick over. Moville not to be outdone contributed the final score of the half with a fine pointed free from the left boot Marie Kelly.
The second half opened with a flurry of scoring from Termon, Roisin McCafferty pointing twice in succession followed by mid-field partner Dara Kelly. Niamh Mclaughlin tagging on a point for Moville after fine build up play from Orlaith Furlong at mid-field but Termon seemed to find another gear to race ahead in this match with Petra McCafferty and Maureen O'Donnell knocking over points followed by two from Annemarie Mcdaid. Kathy Mcalughlin kicked over a point for Moville's final score of the match before Geraldine Mclaughlin landed two more for Termon.
Best for Moville was Niamh and Kathy Mclaughlin who caused the Termon defence a number of problems throughout and also Lorraine Malarkey who was tasked with the hard job of keeping tabs on Geraldine Mclaughlin.
For Termon a number of excellent performance's with the full back line of Shauna Kelly, Nicole Mcalughlin and Shauna Kelly putting in a fine display, but a stand out performance covering every blade of grass and contributing five of Termon's points midfield pairing of Dara Kelly and Roisin McCafferty had a huge influence on the game.
Termon now sit two points clear of Moville in Div.1 but it is still all to play for in the return leg in a number of weeks in Moville and as shown in the opening u-16 game Moville and Termon have a number of excellent young players who will surely contribute massively to the senior teams in the near future.