A special Mass dealing with suicide will be celebrated at noon at St Eunan's Cathedral in Letterkenny today.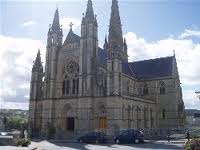 The Mass will deal with the many aspects of a problem that has reached epidemic proportions in daily life across Donegal.
According to organisers of the Mass, it is open to all including believers and non-believers.
Organisers say the service will hopefully provide a message of hope for everyone that only together can we reverse the devastation of suicide and restore our societies and families to peace and well-being once again.
As well as a homily dealing with suicide, the offertory gifts will be brought to the altar by people directly touched by suicide.
According to Fr Eamonn McLaughlin: "The Mass is open to everyone and it is time that we began to tackle suicide in a practical fashion.
"Everyone has a role to play including the church and this is a small but practical step in tackling what is a very major problem."
The Mass follows an initiative last week launched in the Diocese to raise awareness of the issue.
Tags: