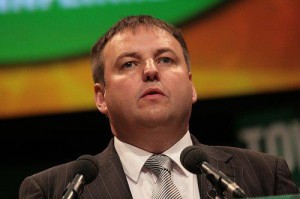 DONEGAL TD Padraig MacLochlainn has slammed Justice Minister Alan Shatter, despite the minister's apology in the Dail today.
Deputy MacLochlainn, Sinn Fein's justice spokesman, made his comments on RTE's Prime Time programme.
It was on Prime Time last week that Deputy Shatter revealed information given to him by the Garda Commissioner that independent TD Mick Wallace had been spoken to by gardai in Dublin who had spotted him speaking on his mobile phone whilst stopped at traffic lights in his car.
Shatter's comments are now the subject of two investigations.
The Donegal TD wanted to know how the Garda Commissioner Martin Callinan got to know of the conversation between Deputy Wallace and two Gardai.
He also slammed Shatter for his failure to "admit he was wrong."
The Inishowen politician was also questioned on the show on how computer giant Apple was using Ireland to avoid paying taxes.
The US Senate found today that Apple was using Ireland as a tax haven.
Deputy MacLochlainn said the issue was damaging to Ireland's reputation, with the Senate committee saying that the loopholes here were costing hundreds of millions of euro "at a time when we are bringing in the property tax for ordinary people."
Tags: