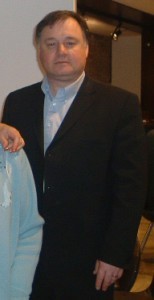 A brother of singer Dana Rosemary Scallon is to appear in court in two weeks time on three child abuse charges.
The Metropolitan police in London says John Brown, who has a house in Urris, Inishowen, and an address in Bracknell, London, was charged yesterday with three cases of indecent assault.
It follows complaints from two women.
Mr Brown is well-known in County Donegal and was a regular spokesperson for Dana on local radio.
He was also behind several building developments in Buncrana and Newtowcunningham.
He will appear at a magistrates court hearing in London on June 7.
The Metropolitan police say the charges arise out of an investigation into allegations dating back to the 1970s.
Tags: