Nigel Doherty Wins Open in Dunfanaghy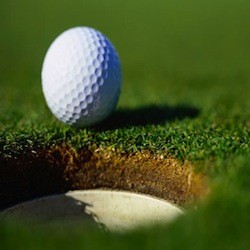 After a long cold spell of weather we had the first hint of warm summer weather on the links course last weekend. With the rough growing and the fairways trimmed the course looks in great shape.
The greens must have been running true as Nigel Doherty managed to play a nice steady round to take the lead in last Sunday's Open Competition.
Wednesday saw a scramble for the top slot but it was the experience of Hugh Ferry that clinched the first place slot. Hot on his heels was David Johnston who just managed to edge out Charles Roarty on BOT with 39 points.
Gross prize went to Donal Boyle with 34 points.
Friday saw a battle of the giants for top slot in the 14 hole competition with Gerard Harkin (getting totally fed up with normally winning second place) just managing to knock back Big Paul Smyth into his usual second place slot on BOT. 30 points was enough to seal the prize.
Well done Gerard that's the mould totally shattered.
Last Saturday was a Singles Stroke competition and there was a real scramble for First place with the top three places being decided on BOT. It was John McNulty however who managed top of the pile with a 64 net pushing Joe Langan into second place and William Hamilton into third.
The gross was won by John Chambers.
Sunday was a glorious day with a bit of wind building but the sunshine brought a welcome change and heat. It was the steady play of Nigel Doherty that managed to lead the pack with a super score of 40 points on the day.
Second place went to Derek Porter with a score of 38 points and Patrick Hunter lifted third place with 37 points. The gross was won by Thomas Alcorn.
RESULTS:
Wednesday 22nd May: Gents Open Singles Stableford
1st: Hugh Ferry 40
2nd: David Johnston 39 BOT
Gross: Donal Boyle 34
3rd: Charles Roarty Jnr 39
CSS: 37
Friday 24th May: Ladies & Gents Open 14 Hole Stableford
1st: Gerard Harkin 30 BOT
2nd: Paul Smyth 30
CSS: N/A
Saturday 25th May: Gents Club Singles Stroke
1st: John McNulty 64 BOT
2nd: Joe Langan 64 BOT
Gross: John Chambers 78
3rd: William Hamilton 64
CSS: 68
Sunday 26th May: Gents Open Singles Stableford
1st: Nigel Doherty 40
2nd: Derek Porter 38
Gross: Thomas Alcorn 29
3rd: Patrick Hunter 37
CSS: 37
* Entry now being taken for Challenge Cup, cost €20. Draw to take place Friday 14th June, with the first round to be completed by Saturday 7th July
* Monday 3rd June 4BBB. Winners will represent Dunfanaghy in a Centenary Competition for the Ulster Branch of the GUI.
The Second Place team will compete in Holmpatrick Cup in aid of the National Council for the Blind. Entry €10
On the Team front the Ulster Cup team travelled to Lambeg to play the second round but ended up loosing as the final result was 7-7 each but with Dunfanaghy 4 holes down. Still lads there is always next year.
Tags: