Jim McGuinness has revealed personal tragedies in his life has made him stronger.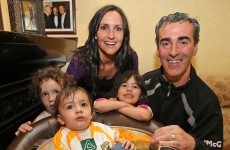 The Donegal boss lost brothers Charles and Mark but says the loss puts family into perspective over sport.
"I think it does make you stronger on one level – it also leaves you slightly vulnerable for the rest of your life.
"The one positive I would say would be that it gives you a really, really strong perspective on your own life.
"For me there's nothing more important in my life than my family and my children.
"That in many respects comes from the fact that I know what loss is and how much it can impact a family so every moment with my wife and children is very precious to me " he said.
The Glenties man revealed he is also expecting twins with wife Yvonne, the sister of Donegal star Colm McFadden.
The All-Ireland winning boss says he also respects the fact that he was also able to pay tribute to his dead brother Mark – when Donegal won the Sam Maguire.
Mark was driving Jim to the airport in 1998 when he crashed and was killed in Fermanagh.
Jim stopped the at the spot where Mark was killed on the Newtownbutler Road.
"It's nice to be able to pay tribute on the way home with the cup," he said.
Tags: