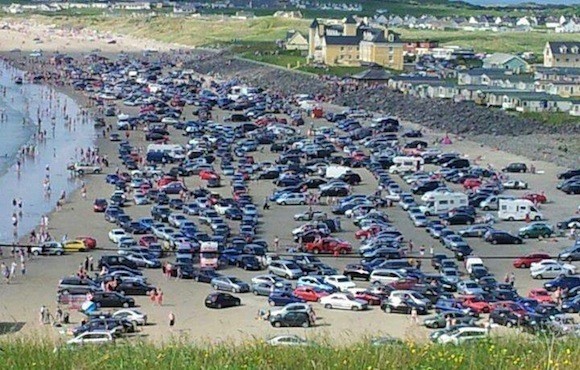 GARDAI had to be called to a Co Donegal beach yesterday – as tempers flared in the searing summer heat.
So many cars had driven on to Rossnowlagh beach, that when it came to leaving yesterday afternoon there were some very heated exchanges….as the tide began to come in.
"There was absolute panic when there was no need for any of it," said one Garda source.
"Most drivers were behaving responsibly as they waited to leave the beach but others were getting very hot under the collar and began to jump queues."
Officers from Bundoran, Ballyshannon and Donegal Town had to help re-direct traffic away from the beach, refusing to let cars which were arriving later in the day from going onto the beach.
One mother at the beach with her three children told Donegal Daily: "There was a bit of a panic because the tide was coming in and there were hundreds of cars on the beach and they all tried to leave at the same time.
"Some drivers just behaved like morons, and behaved disgracefully. Horns were honked and some motorists drove like maniacs and were shouting abuse at each other."
The incidents took place as a helicopter and lifeboat crews searched for two missing boys at the beach – aged six and eight.
Both were later found safe and well.
One Donegal Daily reader witnessed the chaos from the lounge of the popular Sandhouse Hotel. He told us: "I was just glad to be sitting and watching it all. Some people need to chill out a bit more. Tempers were definitely flared."
There were also complaints about quad drivers on the dunes at Portsalon on Sunday.
A number of parents contacted Donegal Daily to complain that they felt intimidated by the behaviour of one quad driver.
"They should be banned from the beach," said one Letterkenny dad.
"You just couldn't rest. I was there with my four children and there's a fear you have that there will be an accident and some day it's going to happen."
Thousands of people headed to Donegal's beaches yesterday, mostly without incident.
There were tailbacks in and around the popular seaside resort of Bundoran and some traffic delays in Buncrana.
Tags: