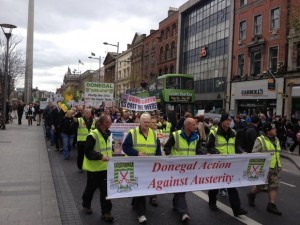 DONEGAL Daily welcomes viewpoints from readers. You can send yours to info@donegaldaily.com, or leave a comment below.
By Joe Murphy, Donegal Action Against Austerity
We watched in horror as the shocking truth about what happens behind closed doors at our privately owned creche's. Now the Council for Special Education has announced a 10 per cent cut in teaching hours for children with special needs from September. And here's a laugh for those of you that can laugh in this time of austerity. More waffling from our Fine Gael TD Joe McHugh. He has called for a review of last year's decision to means test Farm Assist – like he cares! All this on top of health cuts, income levy, universal social charge, domicile levy, insurance levy, water tax (pending), household charge, carbon tax, pension levy, property tax, and VAT up to 23%. And the list goes on and on. Don't forget, we have another austerity budget to come in October. Who will bear the brunt of this? Will it be our politician's? Will it be the wealthy? Will it be the banks? All of them have some blame to share. No! It will be the working families, the sick, the disabled and the children going to school, our hospitals, our care homes and the elderly.
Austerity measures usually target the following spending programs:
Limiting the terms of unemployment benefits.
Extending the eligibility age for retirement and health care benefits.
Reduce government employees' wages, benefits and hours.
Cut programs for the poor.
Austerity will not get us out of the mess we're in. Government claims it is achieving the targets it agreed with the troika. Unfortunately, it has done so on the backs of the Irish people and on our children's futures. Taking even more money out of the economy is simply going to make matters worse. . The problem with this seriously flawed policy of austerity is, while it might help to "balance" the budget, it creates longer term, even endemic, problems. It not only affects growth on which jobs will be created but also results in long-term societal change and enduring health issues which will cost the economy dearly, well into the future.
Do Austerity Measures Work? They usually don't work, because they also reduce economic growth, often making the debt worse. In 2012, the IMF released a report that stated the Euro zone austerity measures may have slowed economic growth and worsened the debt crisis. However, the EU defended the measures, saying they restored confidence in how countries were being managed. However, the timing of austerity measures is everything. When a country is struggling to get out of recession, then lowering government spending and laying off workers will reduce economic growth while increasing unemployment. That's because the government itself is an important component of GDP. The best time for austerity measures is when the economy is in the expansion phase of the business cycle. That will slow growth down to a healthy 2-3% rate, and avoid a bubble. At the same time, it will reassure investors in public debt that the government is fiscally responsible.Sadly that did not happen Joe Murphy PRO DAAA
Tags: