A special Cabaret Craiceailte, Irelands top Irish language entertainment event, held monthly in Hiudai beag's pub, An Bun Beag, gaoth Dobhair, will be held next Friday, 12 July, as part of the Errigal Arts Festival.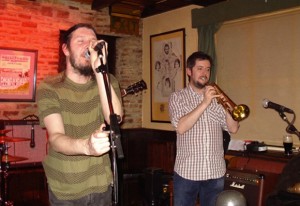 Some of the bands playing on the night include Breag, Zoe Conway and John McIntyre.
Bréag – One of Ireland's best Reggae/Ska bands were formed in Belfast 20 years ago and played one of their first gigs at the Feile Craiceailte, a 3 day music festival run by the Ciorcal Craiceailte in Rath Cairn, County Meath, in November 1993. They have played at the Cabaret many times, at home Tigh Hiúdaí, An Bun Beag, and at the Cabaret in Belfast, Dublin, Galway, Monaghan, and Conamara. Sharing the same birthday, (as the Craiceailte gigs started in 1993 as well), Bréag bring their mighty skanking sounds to the Cabaret Craiceáilte , Friday 12th July.
Zoe Conway and John Mc Intyre : Amazing solo musicians, and a mighty traditional music duo, the Gaoth Dobhair crowd are very excited that they are finally visiting the Cabaret. Zoë, no stranger to the stage, has performed with an impressive list of international artists including Riverdance, Damien Rice, Lou Reed, Nick Cave, Rodrigo y Gabriella to mention but a few. In contrast to this, Zoe has been an important figure within more serious music circles in Ireland, as her discipline has allowed her the pleasure of appearing as soloist with acclaimed orchestras such as The Irish Chamber Orchestra and the BBC Symphony Orchestra; pieces recited include works composed for her by world renowned Irish composer, Bill Whelan.
John began his career as electric guitarist with Irish indie band, The Revs. Through this he has also known the privilege of performing on many famous stages and festivals. John studied classical guitar and has a background in traditional music. Aside from musical performance, he has worked as a producer for numerous recordings and has composed music for guitar and various ensembles.
Diane Ní Chanainn agus a cairde : Local singer Diane Ní Chanainn, from Mín Lárach in the Cloich Cheann Fhaola Gaeltacht, Donegal, recently won the Eamonn Ghrainne – Amhranaí is fearr i gCloich Cheann Fhaola, sean nós competition at Feile na Sean Bhearaice. With a backgroung in Country Music, having performed with her fathers band 'The Clubmen', Diane, took up sean nós singing around 5 years ago and will be joined by renowned Traditional/Folm musicians, Barry Kerr, and Ryan O Donnell, for a very special Cabaret Craiceailte performance on Friday 12 th July, Tigh Hiudai, An Bun Beag, Gaoth Dobhair.
The Cabaret Craiceáilte is always, unpredictable, so expect guest singers, musicians and sean nos dancers and much more, Tigh Hiúdaí, Friday 12th July, 9pm. And, it's only a fiver on the door!
Tags: