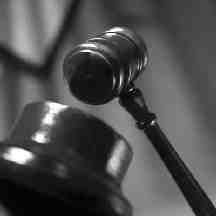 A Circuit Court judge has condemned five members of the travelling community for 'taking the law into their own hands' during an attack on a Donegal Traveller family at a funeral.
Judge Rory McCabe made the comments after sentencing five men who pleaded guilty to charges of violent disorder in relation to a massive brawl that took place during a funeral ceremony in St Colman's Church in Claremorris, Co Mayo, in 2011.
The feud which took place in the grounds of the church at a funeral Mass on October 10, 2011, is said to be ongoing for the last 45 years between members of the five men's family and a family in Donegal.
Owen McDonagh of Saleen, Ballinrobe Road, Castlebar; Bernard McDonagh of 5 Knockthomas, Castlebar; Thomas McDonagh of 123 Manor Village, Castlebar; Gerard McDonagh of Saleen, Ballinrobe Road, Castlebar; and Charles McDonagh of 7 Garryduff, Castlebar, were before Castlebar Circuit Court for sentencing last week.
Sergeant Regina Carley told the court that Mass started and members of the McDonagh family from Donegal were standing outside the church. When the defendants arrived at the church a 'verbal assault' on members of the Donegal McDonaghs ensued, with Bernard McDonagh shouting 'let's get it on. let's get Owen Martin, he'll do'.
A number of fights took place with Gerard McDonagh and Charles McDonagh fighting members of the other family, while Bernard and Owen McDonagh were identified as having a major part in the incident. A slash hook, knife and hatchet were later recovered at the scene with one man subsequently having blood spurting from his head.
Sgt Carley said people attending the funeral Mass feared for their own safety. A victim impact statement read out by State prosecutor Pat Reynolds detailed that the victim was now in 'severe depression' and was 'frightened to answer the phone'.
Bernard McDonagh took to the stand offering an apology to the victim's family. "I'm sincerely sorry. I want to end this dispute today. There seems to be no stop to it," said the 37 year-old.
From the gallery, a member of the victim's family could be heard rejecting Mr McDonagh's apology. Before sentencing, Judge McCabe referred to the rejection saying 'parties should think carefully about how they interact, and if the apology wasn't accepted by the Donegal McDonagh's they might take a different view if they were in the same position as the defendants'.
The judge told the court that he could see how people would bring 'flowers and Mass cards' to a funeral but said there was 'no conceivable reason for a slash hook, knife, and a hatchet' to be brought.
"This was pre-meditation at its most extreme," added Judge McCabe.
Owen, Thomas, Gerard and Charles McDonagh each received a two year prison term with the final year suspended, while Bernard McDonagh received a three year term with the final 18 months suspended.
Tags: