Despite recent poor form Harps boss Peter Hutton remains positive and focused as Harps take on Cobh at Finn Park tomorrow night.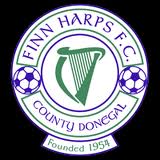 Hutton said there is still a determined mood at the club despite losing the last four league games.
"There is a real air of determination inside our squad. We have two big home games to look forward to and everyone is working together to make sure we get the results we need to get back on track. Missed chances at critical times and not tightening up have cost us in recent games, but I strongly feel that once we get our confidence back no-one will enjoy playing us..
"I believe our supporters have a huge role to play in bringing the club forward. In the short term we have two big games at home over the next couple of weeks against Cobh and then Longford. Encouragement from the terraces can make a vital difference to team performance especially with young players."
He said he fully understands it can be frustrating for supporters when results don't go Harps way ,and there is no doubt as a team, and as a club the panel is a work in progress.
"When you implement new ideas and structures into an any organisation , there is always some growing pains. Lack of finance is of course an issue, but we will continue to assess and improve our coaching and sports science structures as we go forward.
"We all know there is people working hard on behalf of the club to deliver on the new stadium project as soon as possible. The prospect of better facilities and a more cohesive footballing structure will give us the platform to build the type of club we are all striving for."
Speaking more specifically about the Ramblers game Hutton noted that it won't be an easy game:
"Cobh will be full of confidence following their impressive 3-0 victory over a decent Wexford Youths side last week. They have lost Conor Meade to Waterford but they still carry an attacking threat from players such as Martin Deady and Davin O'Neill, while young Kynan Rocks is an excellent prospect.
"We had a tough encounter down there when we drew 2-2 so our players know they will have to be on top of their game if we are to take three points."
As the transfer window is now open "We have a few irons in the fire but we won't commit to anything until we are 100% sure it's right for us. My main concern at the moment is getting the current squad playing to their full potential, both individually and collectively. "
Tags: