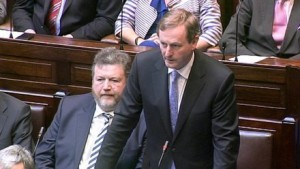 Fianna Fáil Senator Brian Ó Domhnaill has accused Taoiseach Enda Kenny of going back on a promise to reform the Seanad – not close it down.
He said Mr Kenny, when in opposition, had told the MacGill summer school in Glenties in 2009 that he envisaged a reformed Seanad playing a greater role in Irish society.
"At a Fine Gael dinner or gig later that year, he engaged in a finger-licking exercise to see which way the wind was blowing," Ó Domhnaill said.
"Politicians are sometimes accused of doing this."
The Gortahork politician was speaking on a debate to shut the Seanad down – putting the decision to the people at a referendum.
The Senator, quoting Gandi, said  "the spirit of democracy is not a mechanical thing to be adjusted by abolition of forms but requires change of heart."
Ó Domhnaill remarked that the Taoiseach clearly had decided the "abolition of democracy was the answer."