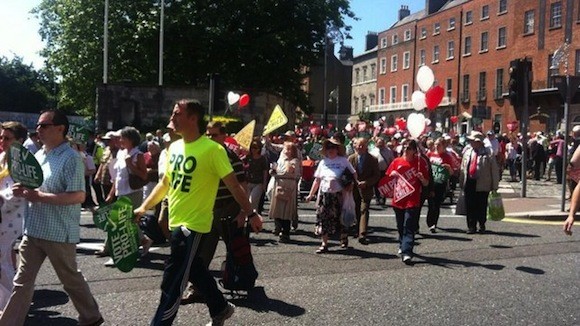 HUNDREDS of Donegal pro-Life campaigners have taken part in a massive march through Dublin today in opposition to the Protection of Life During Pregnancy Bill.
Organisers claim 60,000 people took part in the march through the capital. Gardai estimated the crowd was 35,000.
They heard campaigner Declan Ganley demand a referendum on the proposed legislation on abortion.
The bill is expected to enter the final stages in the Oireachtas this week.
Only Charlie McConalogue, of the six Donegal TDs, hasn't voted in favour of the legislation at this stage.
Independent TD Mattie McGrath was among politicians supporting today's parade.
A pro-Choice demonstration was held near the GPO.
Earlier, Archbishops Diarmuid Martin and Éamon Martin, the former Derry bishop, concelebrated Mass in St Saviour's Church in Dominick Street before the march.
Dr Martin told the congregation that every human life was sacred from the "moment of conception" until natural death.
Tags: