The first of the major Twelfth of July celebrations takes place today in Rossnowlagh.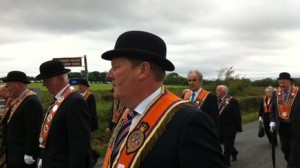 There is a strong contingent of Orange Order members from Fermanagh accompanied by bands attending this traditional event which this year has been included as part of "The Gathering" to attract international visitors.
Almost 50 lodges and bands from Donegal, Cavan, Leitrim and Monaghan as well as some visiting Orangemen from Dublin and Wicklow will be joined by a strong contingent from Northern Ireland.
The parade began at St. John's Church at noon to the demonstration field situated close to the beach where a religious service begins at 3pm conducted by the local minister, the Rev. Brian Russell.
The address is being given by the Rev.Ron Johnston, a Grand Chaplain of the Grand Orange Lodge of Ireland.
Among the senior brethren on parade will be County Donegal Grand Master, David Mahon.
Tags: