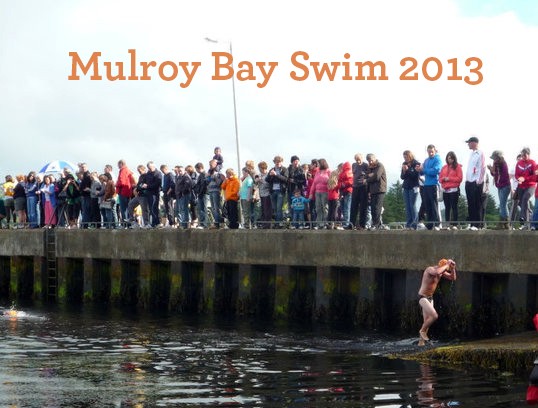 The 4th annual sponsored swim across Mulroy Bay will take place on Saturday 3rd August 2013.
In just three years, a fantastic €20,000 has been raised by the event and this year all proceeds are once again in aid of the very worthy RNLI and also the Cranford Community Centre Playground Fund.
As the date draws closer, it is uplifting to see young and old, novice and experienced swimmers alike out training on the picturesque Mulroy Bay.
Whether you are trying to improve on your previous time or preparing for the challenge for the first time, swimming 900 metres across Mulroy Bay is no small achievement and the personal reward of completing the event is immense.
As with last year, there is a longer 1400 metre swim. This is designed to give the competitive swimmer a greater challenge. This 1400 metre swim starts at the pier at Woodquarter, across the bay and back again. The original 900 metre Madge Carr Mulroy Bay Swim still entices the most swimmers and there is still time to get your entry in!
It's great to see a local event being continued year after year and raising valuable money for really important and worthy causes, such as the RNLI.
The community of Cranford have proved their love for sporting events throughout the years and have recently added the Mulroy Bay Adventure Race to their annual calendar. This is in addition to the long standing JG Memorial event, Cranford Sports Day, 5km Races and other Athletic and Football Club competitions throughout the year.
There has been lots of interest to date and it is advisable to get your entry in on time. You can enter directly online by filling out this online form: www.mulroyswim2013.wufoo.com/forms/z7x3p3/
or go onto our Facebook page and find the link or call 0861902506. www.facebook.com/mulroyswim
Closing date for registration is Wednesday 31st July 2013.
There will be entertainment at the pier, followed by a BBQ and entertainment in Logue's of Cranford. The after party has also become famous for the great celebrations!
Tags: