Two young men who were part of a gang who went on the rampage at one of Ireland's most historic sites have been jailed for a month each.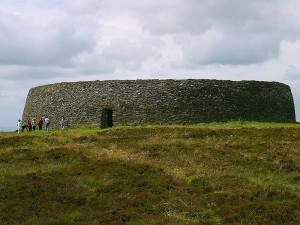 Raymond McCormick, 20, and William Sweeney, 20, appeared before Buncrana District Court today.
The men had been remanded in custody since the last sitting of Letterkenny District Court on Monday last.
Garda Eddie Doherty recounted how the two accused were part of a group of 40 people who had gone on a rampage of destruction at An Grianan Fort in Burt.
He revealed how a drink-fuelled party took place at the ancient fort last weekend.
When he arrived he found a scene of carnage in which revelers had defecated in a holy well and on walkways.
Beer cans and even women's underwear was found strewn on the inside of the courts and parts of the fort had even been dismantled by the revelers.
Tourists visiting the ancient site from as far away as America and China had witnessed the scenes and had also been verbally abused.
The two accused had been charged with causing criminal damage by throwing cans and also some ancient stones fro the fort.
Solicitor for the two accused, Patsy Gallagher, said it was "outrageous" that stonemasons from Leitrim were transported to the site at a cost of €900.
"This is a personal view but I think it is outrageous that a Government Department take people from Leitrim to fix a wall.
"There are members of the Office of Public Works in Letterkenny who could have done this.
"I think this was an extra expense for these people to come all the way for Leitrim," he said.
However, Judge Paul Kelly said the court was not talking about fixing a wall!
"This is a 3,000 national artifact. These people were from the National Monuments District and I'm actually surprised the is as low as it is and I'm surprised they will be able to repair it at all," he said.
Mr Gallagher added that he just could not understand that there were not people locally who could fix the monument.
Garda Inspector Michael Harrison he could not understand why the monument was damaged in the first place.
Mr Gallagher stressed that his client were two of 40 people and they were not the main culprits.
Judge Kelly replied "Nobody forced them to come here and nobody forced to tank themselves up with drink."
Solicitor Gallagher said he was seeking bail to allow the men to pay the €900 costs.
Sweeney had an address at Ballybane, Creggan, Derry and McCormick had an address at Oaklands Park, Creggan, Derry.
Garda Supt Harrison said he was objecting to the men's release as they lived across the border.
"Their addresses are in Derry City. They have no residence here. If they got bail we would never see them again or the €900.
"The OPW have been extremely reasonably in their figures and I would ask they be remanded in custody until the money is paid," he said.
Judge Kelly replied that the accused were no getting out until the money was paid.
After the matter was adjourned, solicitor Patsy Gallagher said the money was in court to pay the OPW.
He said that having spent almost a week in prison both men were trembling with fear at the thought of going back behind bars.
"They have never seen inside a Garda station before this, nevermind a prison cell for a week," said Mr Gallagher.
He pleaded with Judge Kelly not to send them back to prison saying it was very unlikely they would appear in court again.
Judge Kelly "They are very fortunate to have family willing to stand by them and bail them out. They may be able to prevail upon their comrades, the other people involved, to pay their part.
"What they did on this day and specially the treatment of visitors was absolutely appalling – intimidating and harassing an American woman and Chinese family. It will not be tolerated," said Judge Kelly.
He sentenced both men to one month in prison but suspended the sentence for 12 months.
"If you appear before me again in that time this sentence will be activated," he said.
Tags: