BREAKING NEWS: A major search operation swung into action last night amidst fears that a mother and daughter have been drowned off the Donegal coast.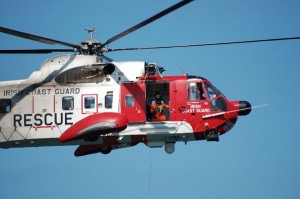 A massive operation was launched after a passer-by found a woman's body at Roxstown Harbour just before 6.30pm.
The woman's car was found close by on the shoreline, north of Clonmany.
The woman is understood to be from Derry but is believed to have been living in Buncrana.
There was further panic after a member of the public said they had seen the woman earlier with a baby.
The woman's mobile phone was recovered at the scene and the PSNI are now trying to contact relatives to determine if the woman had a child with her.
Gardai alerted the rescue services to the tragedy just after 6.30pm.
A number of emergency services circled the scene of the incident which is being co-ordinated by Malin Head Coast Guard station.
They include the Rescue 118 helicopter from Sligo, two units of the Lough Swilly Lifeboat, two units of the Greencastle Lifeboat as well as shoreline units and the Gardai.
The rescue helicopter spent more than two hours in the area carrying out an intensive searching before refueling and starting to search again.
A spokesman for Malin Head Coastguard said last night's tide was one of the biggest of the year so far.
"It was a huge tide which peaked at 8pm and went out quickly.
"We got a call form the Gardai that a woman's body had been located at Roxtown Harbour.
"Gardai were then told that a baby had been in the company of the woman earlier on.
"We have to assume that the woman was with the baby and that is why the search is still going on.
"The woman is from Derry and the PSNI are trying to establish contact with the family to see if the baby or child is missing," he said.
Spokesman for Lough Swilly Lifeboat, Joe Joyce, said last night they could not say if a second person was missing.
He said the search would continue until they were given some direction in the case.
Tags: