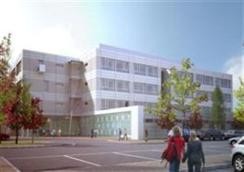 THE Emergency Department of Letterkenny General Hospital is 'struggling to cope' today with the large number of patients.
The HSE has asked non-emergency patients not to attend the hospital today if at all possible.
The crisis comes just a few days after Donegal Daily reported that staff at the hospital don't have enough resources to deal with large in-takes of patients.
"We wish to inform the general public that Letterkenny Hospital is experiencing high activity levels at the present time," the HSE admitted today.
"Due to the high number of people attending the Emergency Department, people who require non-urgent medical attention, should consult their GP in the first instance.
"Those people who are attending the Emergency Department requiring urgent medical care may experience delays."
Anyone attending in-patient services are asked to check in advance.
"We have a great new Emergency Department but we don't have the staff to cope with the number of patients," one hospital insider had told us a few days ago.
Tags: