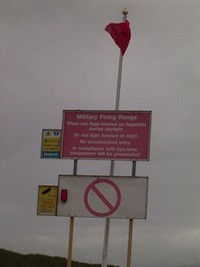 BRITISH Army soldiers sparked a Donegal lifeboat launch, it has emerged.
The soldiers were taking part in exercises at Magilligan Point in County Derry on Thursday.
However they also used numerous flares, sparking emergency calls to the Irish Coast Guard.
Greencastle Lifeboat crews were despatched into Lough Foyle fearing a boat was in distress.
But the crew was stood down when Malin Head Coast Guard station was later able to establish the flares were from British military exercises.
The presence of the military zone – just across the water from County Donegal – has long angered local people on both sides of the Border.
Sinn Féin MLA Cathal Ó hOisín wants the British Army training area at Magilligan to be closed "if there is any chance of building a tourist industry in the area."
Large sections of Benone beach are closed during long periods due to British Army live training exercises along the beach. This includes helicopter gunships strafing the dunes with rockets and machine gun fire.
"When the live firing exercises are being held fishermen and boat users are prevented from using a section of Lough Foyle and a large section of the beach is closed. This is having a detrimental effect on those who make a living from the sea and those in the tourist industry," he has said.
The British Army base is also polluting the Lough with untreated sewage being pumped directly into the sea.
Tags: