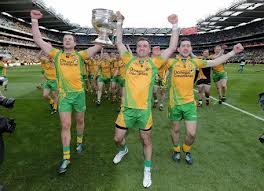 ALL-STAR Karl Lacey has waded into the row surrounding serious injuries caused to Donegal players in recent games, insisting that his team mates are being targeted by opposition players.
Following the serious injuries caused to Mark McHugh in the Ulster final, Donegal manager Jim McGuinness used his post-match press conference to warn that he feared it was only a matter of time before a player suffered life-changing injuries unless more is done to protect players.
And tonight Karl Lacey has backed his boss.
In an interview with Barry O'Neill on RTE Radio One, Lacey said he believed there was no doubt in his mind that opposition teams were targeting Donegal players.
"The way the injuries are happening are concerning Jim," said Karl.
"Certain players in our squad have been targeted in the last few games. It happened last weekend in the Ulster final and there was nothing done about it.
"It is disappointing that certain players on are squad are being targeted. Referees need to look at this and see exactly what is going on."
Lacey said he hoped to be fit to start against Mayo at Croke Park next Sunday.
Tags: