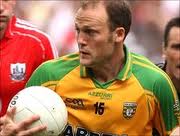 Gaoth Dobhair's Neil McGee and St Michael's Colm McFadden have been named on the GAA's team of the week.
Both had starring roles in the weekend win over Laois.
The players were nominated by the associations's website gaa.ie
The full 15 line-up is below:
1. Manus Breathnach (Galway)
2. Donal Keogan (Meath)
3. Neil McGee (Donegal)
4. Killian Clarke (Cavan)
5. Ciarán McGinley (Tyrone)
6. Peter Harte (Tyrone)
7. Gary Sice (Galway)
8. Seán Cavanagh (Tyrone)
9. David Givney (Cavan)
10. Aidan Walsh (Cork)
11. Seán Armstrong (Galway)
12. Pearse O'Neill (Cork)
13. Eamonn Wallace (Meath)
14. Michael Meehan (Galway)
15. Colm McFadden (Donegal)
Team of the Week is picked by GAA.ie editorial team.
Tags: