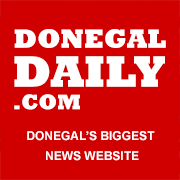 YOU can send your Viewpoint to info@donegaldaily.com
VIEWPOINT By Sean Ruddy: The economics profession has lost it way. The traditional way to solve our economic problems has always been growth. But now, despite the best efforts of all concerned, the Irish economy refuses to grow. The economic measures that have been useful – lower interest rates, quantitative easing, and strict austerity – are failing. GDP in Ireland is now lower than when the crisis began.
It's time to abandon the pursuit of growth in wealthy nations and consider a new strategy – an economy of enough. Suppose that instead of chasing after more stuff, more jobs, more consumption, and more income, we aimed for enough stuff, enough jobs, enough consumption and enough income.
Economic growth is causing a number of global environmental problems, ranging from climate change to biodiversity loss. At the same time, economic growth is no longer improving people's lives in wealthy nations like the ourselves. To continue to pursue growth for growth's sake is simply irresponsible.
Our main indicator of growth, GDP, is a measure of economic activity—of money changing hands. It doesn't tell us anything about what kind of activity is occurring. If the Garda came to your door and said that "activity" in your neighbourhood had increased by 3% last year, you'd want to know what kind of activity. Was it more children playing in parks, or more break-ins? We need to ask the same kinds of questions about GDP. Did it grow because our society became wealthier, or did it grow because we ran up huge debts and liquidated our natural assets?
We have to start thinking outside the box to develop economic policies that improve quality of life without expanding consumption. These policies include methods to reduce resource use, limit inequality, fix the financial system, create meaningful jobs, and change the way we measure progress.
Perhaps the biggest fear that most people have when they hear "no growth" is "no jobs", but the evidence for a relationship between economic growth and job creation is much weaker than you would expect and varies remarkably between countries. In the US, for example, a 3% increase in GDP tends to be accompanied by a 1% fall in unemployment. In France, the same amount of GDP growth reduces unemployment by only half a percent. In Japan, there is no relationship whatsoever. Clearly it is possible to break the connection between economic growth and unemployment; we just need the right economic policies.
What we do not need is unrelenting austerity: the best way to save the cat is not to cut down the tree. If we're serious about achieving a better life for the vast majority of people in Europe then we need a new approach – an economic model that prioritises people and planet over short-term profits. It's time to embrace a new form of economics and say enough is enough.
Sean Ruddy
The Old Manse Hillhead, Carndonagh
Co Donegal
Tags: